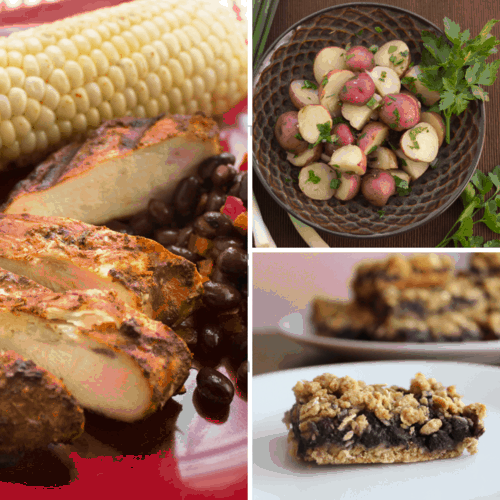 So many of my favorite memories include meals eaten outside. Picnics at the beach; sandwiches eaten at the top of mountains after challenging hikes; campfires with roasting potatoes, corn, and, of course, s'mores; street food eaten on park benches in new cities; and dinners on my parents' back patio where the conversation lingered on through dusk and into night. There's just something special about eating al fresco, isn't there? It feels free, relaxed, and adventurous – even when it is only in the backyard.
A Father's Day Picnic Menu
So this year, instead of a tie, coffee mug, or shaving set, why not start a new tradition and celebrate Father's Day with an experiential, memory-filled afternoon picnic? Here at The Scramble we wanted to make such a gift as simple as possible, so we came up with a Father's Day picnic menu that is easy to prepare (the kids can help!) and sure to please (options for meat eaters and vegetarians included). We even included the shopping list so all you have to think about is where to have this celebratory adventure. That's right, pick your favorite picnic spot or outdoor activity, pack up the food, and head on out for an experience everyone will remember!
What's on the Menu?
This menu is packed with Scramble favorites that are easy to transport. If you want to include your kids in the cooking. :
Grilled Chicken or Tofu with Cajun Rub
Warm Potato Salad
Carrots with Dip
Wild Blueberry Oat Bars
How Do I Get a Copy?
If you are a Scramble member, you will receive the menu both in our weekend newsletter and in your weekly meal plan on June 12th. If you are not yet a member, sign up for a two-week free trial and not only will you get two weeks of stress-free meal planning, but you'll also get this special Father's Day Menu.
Happy Father's Day!