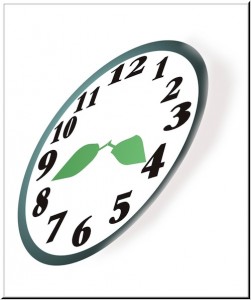 As a Scrambler, you know how important it is to find any and every way to cut down on the time it takes to get a family dinner on the table. Here are a few of my favorite timesaving cooking tips and tricks.
1. Halve cherry tomatoes or grapes: Put all the tomatoes on a dinner plate with a rim, top them gently with another rimmed dinner plate to hold them still.  Slide a long serrated knife between the two plates to halve all the tomatoes or grapes in one slice.
2. Shuck corn: Steam corn in the microwave with the husk on for 2 – 4 minutes until it is hot. Let it cool a bit, slice through the cob near the bottom, and the husk and silk slide right off.
3. Dice or slice an avocado:  Halve the avocado the long way, separate the halves, remove the pit with a spoon or serrated knife, and using a dull knife, cut each half into long slices then across the short way to create cubes. Remove the cubes with a large spoon. Alternatively, scoop out the flesh with the spoon first, put the flesh flat side down on a cutting board and dice easily.
4. Chop and dice faster: Sharpen your knives regularly—ideally once a week with a handheld sharpener and once a year professionally.  Cooking is so much more efficient with tools that work well. If you consider yourself a slow chopper, watch a few cooking shows or videos to learn some techniques (or take a knife skills class if you have time).
5. And the biggest cooking time saver of all?  Plan your meals in advance and shop once a week with a list. We know how much time we waste deciding what to make each day and searching for recipes and ingredients, or stopping to pick up food or groceries on the way home. Planning ahead can save us hours each week, not to mention $100 or more!
Do you have a timesaving cooking tip or trick I missed? Please share it in the comments below or on The Scramble Facebook page.
To get additional time (and sanity!) saving tips and delicious family-friendly recipes and to save more than 5 hours and $130 every week on making family dinner a reality, join The Scramble weekly meal planner. Try it free for 2 weeks here.