Looking for a gift that won't collect dust? Check out these edible holiday gift ideas (and other goodies for food lovers or budding gastronomes).

Note: This page contains affiliate links. If you purchase a product through these links, your cost will be the same but The Scramble will receive a small commission. I only link to products I personally use, trust, and love. If you want to learn more, please check out my disclosure page. Thanks for your support!
Why Choose an Edible Gift?
When it comes to holiday gift giving, it may not surprise you that I enjoy sharing my favorite foods (or food related gifts) with friends and family. Generally, I think most of us have more than enough possessions filling up our homes, so the idea of giving consumable gifts is very appealing to me. Giving an edible gift almost guarantees that it won't sit on a shelf collecting dust.
So I put together a collection of recipes that are perfect for edible gifts, as well as some non-consumable but still food-related gifts that might be perfect for someone in your life.
Edible Holiday Gift Ideas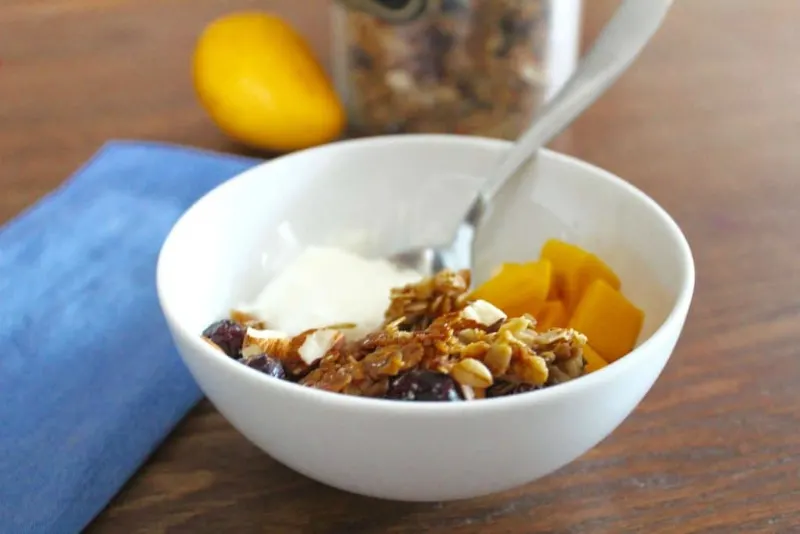 Each year I struggle with the question of what edible gift to give, but then last year I hit on the jackpot. I made a triple batch of our Chai-Spiced Granola recipe, put it in mason jars, and handed them out to teachers (along with a Target gift card) and friends.
People went NUTS for it, so much so that when I made spiced nuts as an end-of-the-school-year gift for teachers, some were actually disappointed it wasn't more granola. Guess what I am making this year!
Other Edible Gift Ideas
If granola doesn't float your boat, there are a number of Scramble gems tucked away on the site that would be ideal for whipping up, putting in mason jars or decorative tins and giving as gifts to those you care about:

These little cuties are sweetened with honey and can be rolled in either cocoa powder or confectioner's sugar, depending on the look you want. Added bonus: you can get your kiddos to help in the prep by rolling the balls and arranging them in the gift tins.
These are the perfect gift for your health-conscious loved ones as they have no added sugar and yet make a wonderful sweet treat. Again, pull your kids into the process by having them roll out the balls and arrange them in the tins for you.
Light and sweet, these pillows of deliciousness would make an amazing gift. One tip: when you pack them up, make sure to include some tissue paper or other padding in the box with them to prevent them from breaking too much.
A special spin on a holiday classic, the pops of juiciness from the pomegranate seeds takes this chocolate bark to a whole new level. The best part? If you spread the melted chocolate, you can have your littles sprinkle the toppings on top or you can have your older kids make this on their own from start to finish!
My favorite thing about this bark is that it is so flexible. Melt some chocolate, pick your favorite toppings, and assemble your dream bark! Like the bark above, you can have younger kids help with the toppings and school-aged kids can likely make this entirely on their own.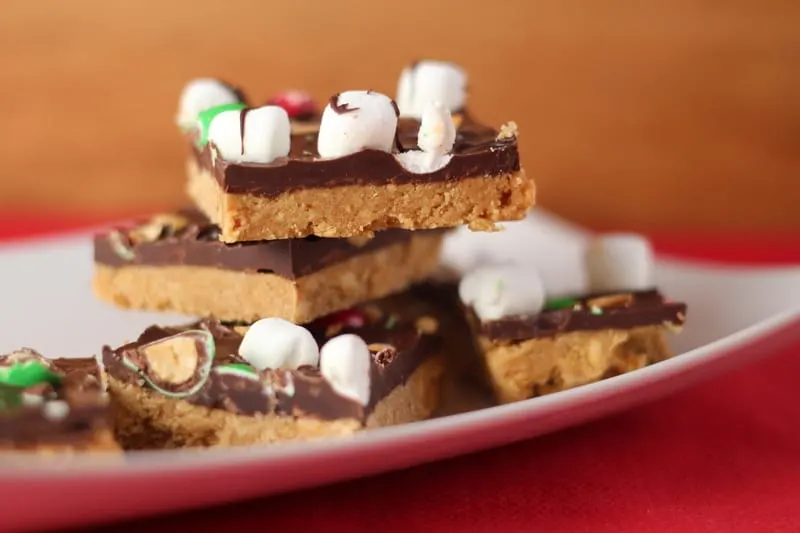 My family loves these all year round, but during the holidays they are really fun to top with holiday-colored m&ms to make a truly festive treat.
Food-Related Gift Ideas
If you love the idea of food-related gifts but don't want to spend any extra time in the kitchen creating your own, here are a few creative options.
For the coffee enthusiast in your life. I am not a coffee drinker, but my husband is passionate about his coffee and swears by his individual-sized french press.
Got a carb-fiend in your life? With the rapidly growing appetites in my house, we were spending a HUGE amount on bread each week, so this year I got a bread machine and it has been a game changer! Now we have fresh, delicious (and healthier!) bread available all the time.
For a family treat, how about snacking on gourmet popsicles at home with the Zoku Quick Pop Maker. This gadget is amazing – popsicles ready in as little as 7 minutes?! Yes, please!
Of course, it would be remiss of me not to mention giving the gift of healthy family dinners! A subscription to The Scramble's family-friendly meal plans is never the wrong color or size and won't wind up in a landfill. And most importantly, it's a gift that brings families together.
If you'd prefer to give a gift that can be wrapped, choose from one of three Scramble Cookbooks. They're gifts you truly can't go wrong with.
For Budding Chefs
Most kids love to eat, but these gifts are intended for those that love to cook (and eat, of course).
Raddish Cooking Club for Kids is by far my top choice. These fun boxes arrive in the mail and are packed with high-quality cooking tools, easy-to-follow fun and delicious recipes kids can make pretty much on their own, and more! You can learn more about my family's experience enjoying these kits here.
Cookbooks for kids who need a little inspiration to get started (affiliate links):
Or get them the gear!
Get your kid started with their own kitchen tools (that happen to be fun and colorful). My boys both LOVED their Curious Chef Chef's Kit when they were little and I then used their products when I taught kids cooking classes. I love Curious Chef products because they fit little hands perfectly, but also actually function well, which isn't always true of kids' cooking tools.
If you need a bit more inspiration for useful and scrumptious gifts for the season, please check out my Pinterest board or my gift guide. They've got tons of holiday gift ideas (both homemade and store-bought options), which the people on your list would likely be delighted to receive. Happy Holidays!