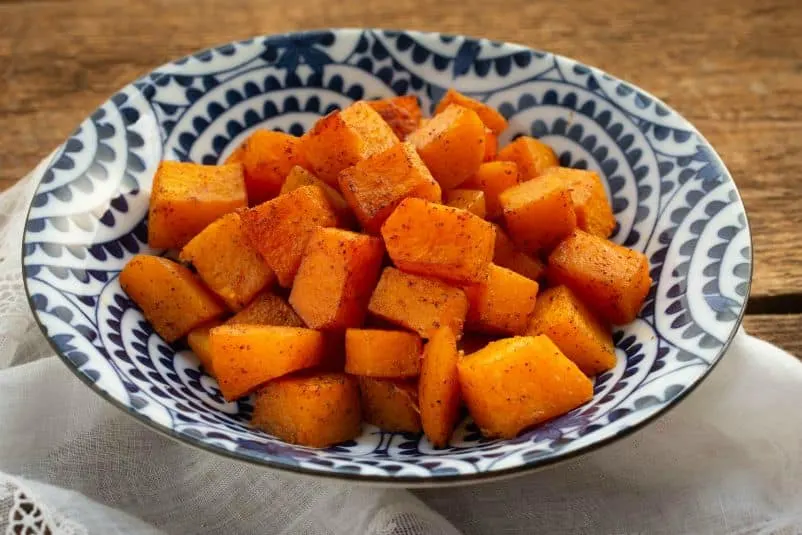 Growing up, there were pretty much three ways that my family ate vegetables: steamed, sauteed, or raw in salads. And while I usually ate the vegetables put in front of me, I often found them to be quite bland and was always thrilled when there was a sauce (especially if it was a cheese sauce) to go over them. When I became a mom, however, and one of my sons showed absolutely no interest in really any vegetable, except raw carrots, I knew I had to try something new.
As I researched ways to make vegetables more appealing to kids, one of the answers that came up over and over again was to roast your vegetables. Curious, I decided to give roasted broccoli a try and the results were miraculous! Not only did I think it tasted tremendous, but my picky son guzzled them down.
But why would a kid turn his nose up at crunchy steamed or sauteed broccoli but inhale roasted broccoli? I wanted to learn more.
Roasted Vegetables: A Entry Point for Picky Eaters
To understand why kids tend to prefer roasted vegetables to other vegetables we have to start with a lesson on evolution. If you have ever spent time with kids you likely noticed that they tend to prefer sweet foods to sour or bitter foods. While we may think that this is due to the Western diet or our failures as parents, it is actually what kids' bodies have been pre-programmed to prefer.
Scientists have two theories as to why this is true. One theory is that kids are biologically programmed to seek out energy-rich (read: sweet) foods because those are the foods that helped them to grow and survive, especially during times when food was scarce.
Another is that this genetic programming is a protective mechanism designed to keep children away from toxic berries and plants that tend to have bitter or sour flavor profiles. That's right, the preference for sweet was designed to keep them safe.
This means that when feeding a kid (or adult!) who is dubious about eating his/her vegetables, opting for the sweetest preparation (roasting them) may prove worthwhile.
What Vegetables Can You Roast?
With the exception of leafy green vegetables like spinach, you can roast pretty much any vegetable with success. (Quick note: the exception to the leafy green vegetable rule is obviously kale chips, but because kale is more delicate, some of the rules of roasting vegetables I lay out below don't apply. Please check out my kale chip recipe for the best way to prepare this other kid favorite.)
Some of my favorite roasting vegetables include:
carrots and parsnips
broccoli
cauliflower
potatoes
sweet potatoes
Brussels sprouts
onions
green beans
okra
beets
fennel
winter squashes (delicata, butternut, etc.)
When done right, roasting any of these vegetables makes them perfectly crisp on the outside, tender on the inside, and a little bit sweet from the caramelization in the oven. It's the best way to get your family to eat – and love – their vegetables.
Spices and Flavors to Add to Your Roast Vegetables
While using just a little bit of oil and salt is a delicious and successful way to roast your vegetables, there are optional add-ins that can make your roasted vegetables even more special. Here are some of my favorite spices and flavors to add to my roasted vegetables:
Before roasting:
chili powder for a smokey, slightly spicy
garam masala or curry powder for an Indian-inspired spin
dill
cinnamon (especially on sweet potatoes)
crushed red pepper or cayenne for a kick
After roasting:
Parmesan cheese
feta cheese
chopped fresh herbs
a squeeze of lemon
ranch or blue cheese dip
How to Eat Roasted Vegetables
While most of the time you will likely enjoy roasted vegetables just as they are, there are many other wonderful ways you can incorporate them into your meals. Here are some of the ways that my family loves to enjoy roasted vegetables.
As a component in salads
Add roasted vegetables to green salads, grain salads, and pasta salads for a fantastic flavor boost.
Added to egg dishes
Stir leftover roasted vegetables into your next batch of scrambled eggs, incorporate them into omelets, or add them to frittatas.
As an ingredient on build-a-meal nights
If your family loves build-a-meal nights, such as bean-and-rice-bowls or tacos, consider adding roasted vegetables as an option. This is an especially good use of leftover roasted vegetables from a previous dinner.
Added to burritos and chimichangas
This is probably my favorite way to use up leftover roasted vegetables. I roll them into breakfast and dinner burritos and chimichangas any chance I get. My kids never complain and I feel good about the extra dose of veggies they are getting without even thinking about it.
How to Roast Vegetables: 7 Secrets to Making Perfect Roasted Vegetables
Use a rimmed baking sheet. You can use parchment paper or foil on pan for easier cleanup, but it's not necessary.
Use high heat (450) and roast in the center of the oven.
Cut the vegetables into even pieces. The smaller they are, the faster they will cook.
Don't crowd the vegetables—spread them evenly and give them a little space (I often use two baking sheets).
Toss with oil (1 – 2 Tbsp. for 1 lb. of vegetables) and salt (1/4 – 1/2 tsp.) (plus other seasonings if desired) in a bowl or directly on the pan with your hands. If you use a bowl, you can use the same bowl for serving. You can also add an acid like vinegar or fresh lemon juice.
Toss once 2/3 of the way through OR skip the flip by preheating the baking sheets along with the oven. That way, the vegetables are exposed to the hot baking sheet and will immediately get that nice caramelization you are hoping for. (Tip: If you do decide to flip them, remove the baking sheet from the oven and close the oven door while tossing so it doesn't lose heat.)
Cook until the vegetables are browned on the outside, tender in the middle, 15 – 25 minutes depending on vegetable and size of pieces.
Enjoy them immediately or let the roasted vegetables cool and refrigerate them for up to 3 days.
Roasted Parsnips or Carrots
If you've never had parsnips, this is the perfect recipe to try them! Sweet and crunchy, you'll fall in love immediately.
Ingredients
1

lb.

parsnips or carrots

or use a combination of both

1 - 2

Tbsp.

extra virgin olive oil

1/4

tsp.

kosher salt

sea salt, or other coarse salt

1/8 - 1/4

tsp.

black pepper
Instructions
Preheat the oven to 450 degrees.

Cut the parsnips and/or carrots lengthwise into halves or quarters (depending on their size) and cut those strips into 1-inch pieces.

In a roasting pan, toss the pieces with the oil, salt, and pepper (add ½ - 1 tsp. fresh thyme, if desired).

Roast them until they are lightly browned, 15 - 20 minutes, tossing once. The longer they cook, the sweeter they become.
Notes
Nutritional Information Per Serving (% based upon daily values): Calories 77, Total Fat: 3g, 4%; Saturated Fat: 1g, 1.5%; Cholesterol: 0mg, 0%; Sodium: 12mg, 5%; Total Carbohydrate: 14g, 4.5%; Dietary Fiber: 4g, 15%; Sugar: 4g; Protein: 1g
Like this recipe? Check out The Scramble's family-friendly meal plans to see just how simple getting dinner on the table can be!
Looking for more cooking inspiration, check out The Scramble's family-friendly meal plans to see just how simple getting dinner on the table can be!