Note: This page contains affiliate links. If you purchase a product through these links, your cost will be the same but The Scramble will receive a small commission. I only link to products I personally use, trust, and love. If you want to learn more, please check out my disclosure page. Thanks for your support!
Always be Prepared
When my kids were little and we traveled, whether it was on a road trip or by plane, I was terrified of being stranded without enough food. I dreaded what would happen if we were stuck in traffic or stranded at the airport with a flight delay. The last thing I wanted was to have an already stressful situation made worse by a hangry toddler (or grown up) meltdown, so I packed snacks. Lots of them.
I wish I could say that my fears of not having enough food while traveling have dissipated as my kids have gotten older, but they haven't. I still pack a lot of snacks. It has gotten to the point where when I offer the boys a snack while we are traveling, they will keep repeating, "what else do you have? What else do you have? What else do you have?" Because they know that there is almost an endless supply of goodies.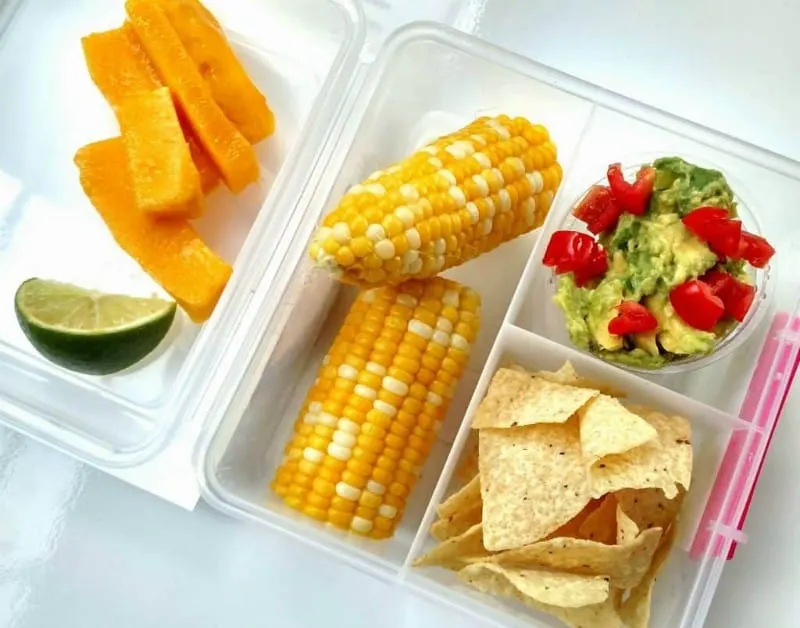 An Opportunity for Adventure
I find road trips are also an excellent time to introduce my family to new healthy snacks, as they are more adventurous when they are hungry and choices are limited. (It's also a great time to polish off opened packages of food that would otherwise go bad or get stale while we're away.)
In addition, for longer road trips, such as an RV or camping adventure, you may need to do some occasional restocking of your supply. In times like these my family likes to try to discover new treats such as the bag of chili flavored corn nuts we found in a gas station in Arizona, blue corn popcorn from New Mexico, and peppery buffalo jerky in Virginia.
And, as my husband can attest to, I rarely pass up an opportunity to stop at local farm stands to pick up some fresh, seasonal fruit.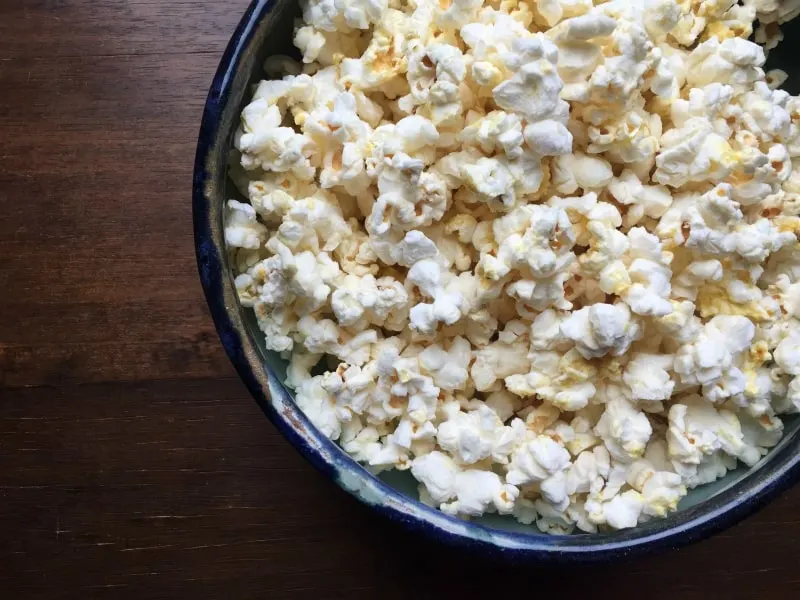 My Healthy Road Trip Snack List + a Recipe
Here are some of my favorite things to bring when we travel. For many road trips all we need are snack, but I also wanted to include some meal ideas for those longer trips that you may be taking this summer. Plus I'm sharing a recipe everyone will love!
Best Snack Foods for Road Trips
1. Fresh fruit – hearty fruit like apples, pears, and citrus survive long trips best
2. Fresh vegetables – our favorites include baby carrots, grape tomatoes, Persian cucumbers, and celery sticks. And we often like to bring along a dip (hummus, ranch, tahini, guacamole) as well
3. Muffins – homemade pumpkin, sweet potato, banana, spinach muffins are some of our favorites
4. Pistachio nuts – not only are they healthy, but they also are fun to eat, which can keep kids distracted for a while
5. Freeze dried or dehydrated fruit – these won't go bad and are fun and crunchy
6. Turkey jerky – a nice dose of protein to keep everyone's moods in check
7. Granola bars or energy bars – a go-to, see recipe below for inspiration or check out our mix and match granola bars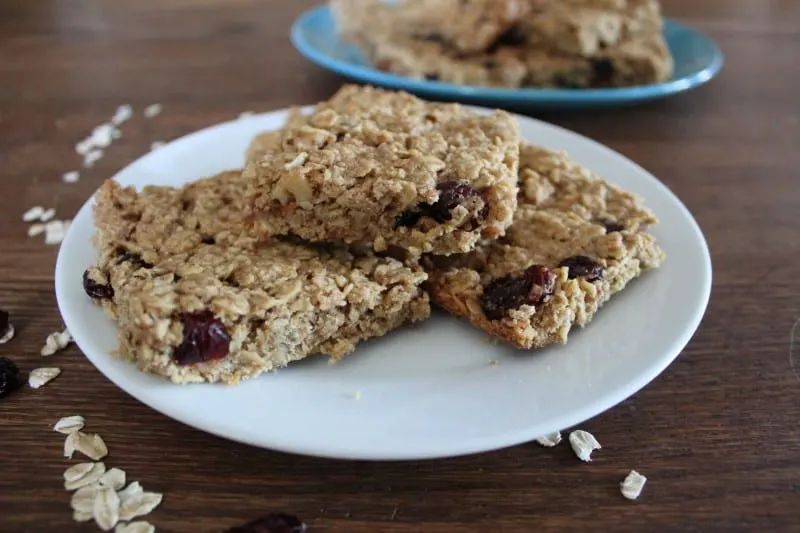 8. Roasted sunflower or pumpkin seeds – another nice source of protein that is fun to eat
9. Edamame – you can buy the already-cooked ones or steam and flavor them yourself
10. Roasted seaweed snacks – my kids LOVE these
11. Hard-boiled eggs – they need to be stored in a cooler to keep cool. To make them a little more special consider sprinkling them with curry powder and salt
12. Popcorn – I usually make my own, but if I don't have time I'll buy a large bag of a healthy, reduced-sodium variety
13. Homemade trail mix – we like to make our own using a mix of unsalted or low salt peanuts, raisins, and dark chocolate chips
14. Pretzels – a fun, crunchy snack that we'll often pair with small cups of hummus (kept in a cooler)
15. Baggies of healthy cereal – my kids don't each much cereal, so they always think this is a fun one
16. Chocolate covered almonds or graham crackers – after all, sometimes a sweet treat is just what's needed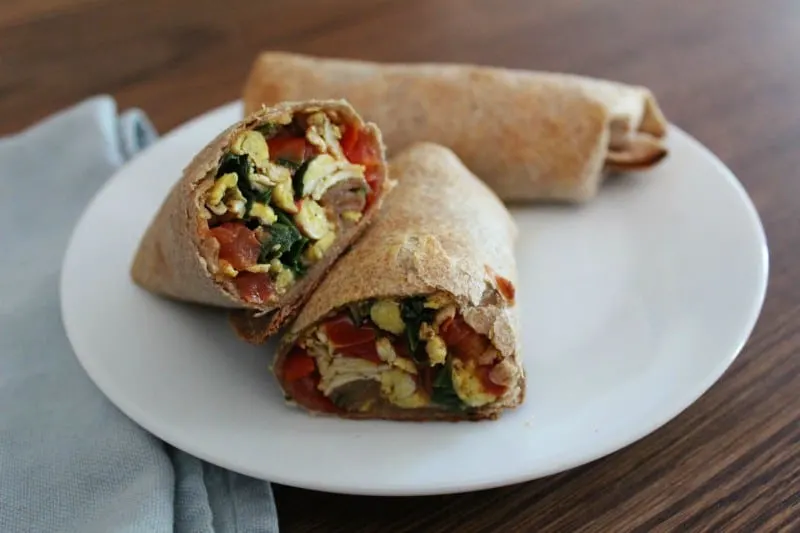 Best Meals for Road trips
Sometimes, especially for longer car trips, bringing some easy to eat meals can also be a welcome addition. Here are some of our favorites:
17. Burritos – these are a great option because you can pack in all kinds of healthy stuff such as vegetables and lean protein, plus they can be eaten by hand without too much of a mess. These are also a great place to use up whatever food you've got left in your fridge before hitting the road. For inspiration, check out our toasty baked burrito and our veggie-packed breakfast burrito
18. Breakfast sandwiches – packed with protein and vegetables, these are one of my family's favorites
19. Peanut butter and jelly sandwiches – always a classic favorite
20. Waffle-and-cream-cheese sandwiches – these are a fun, different option and can be made with any kind of waffle such as our blueberry oatmeal or carrot cake waffles
21. Wraps – hand-held and easy-to-eat, I also love these because I can use up the last of my lettuce, spinach, or other salad ingredients that might otherwise have to get tossed. For some fun options check out our hummus veggie and crunchy rainbow wraps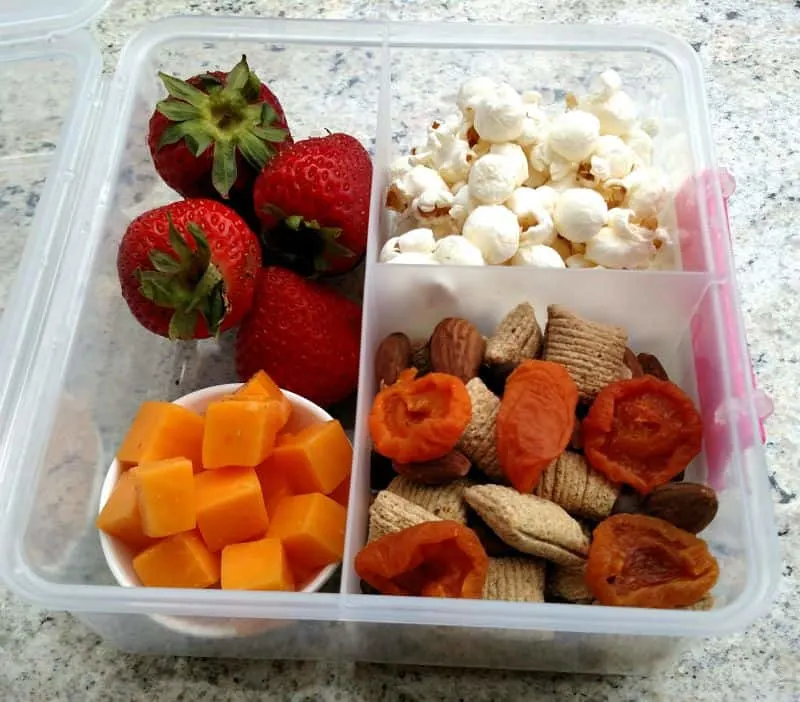 Other supplies for your road trip
Spending long stretches of time in car also calls for some other supplies to keep everyone happy, comfortable, and not too messy.
Refillable water bottles – you'll have less clamoring for sugary drinks and won't use plastic
Sugarless gum – keeps mouths busy
Napkins and/or wet wipes – for cleaning messy hands, faces, and spills
Extra ziplocs or reusable bags – you'll want these for storing dry snacks, as well as leftovers. Our favorites are Lunchskins (affiliate) bags because they are so sturdy and easily washable
Storage containers – these will help to keep your food organized and easy to pass back and forth without spillage. Our favorites are packit and Easy Lunchboxes containers (affiliates)
An extra bag for trash – your car will thank you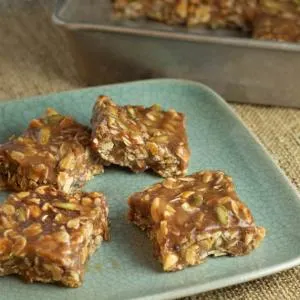 Chewy Protein Packed Peanut Butter Granola Squares
These simple bars make a great substitute for store-bought energy bars that are packed with sugar.
Ingredients
3/4

cup

honey

1

cup

natural peanut butter

2

Tbsp.

coconut oil

or use butter

1

cup

+ 2 Tbsp. rolled oats

1

cup

peanuts

1/4

cup

chia seeds

optional

1/2

cup

pepitas

pumpkin seeds

1/2

tsp.

ground cinnamon

1

Tbsp.

unsweetened cocoa powder
Instructions
In a medium saucepan over medium heat, combine the honey, peanut butter and oil and stir until melted together.

Remove it from the heat and stir in the remaining ingredients.

Spray a 9 x 13 pan, preferably with straight corners, with nonstick cooking spray or line it with parchment paper.

Press the mixture into the pan and smooth the top of it. Refrigerate it for at least an hour until it is set.

Cut it into 20 squares and serve immediately, store in an air-tight container for up to a week, or freeze for up to 3 months. (We like to store them in the refrigerator or freezer so they stay firmer.)
Nutrition
Calories:
275
kcal
Carbohydrates:
25
g
Protein:
8
g
Fat:
18
g
Saturated Fat:
5
g
Polyunsaturated Fat:
5
g
Monounsaturated Fat:
7
g
Trans Fat:
0.01
g
Sodium:
7
mg
Potassium:
241
mg
Fiber:
4
g
Sugar:
16
g
Vitamin A:
2
IU
Vitamin C:
0.2
mg
Calcium:
44
mg
Iron:
2
mg