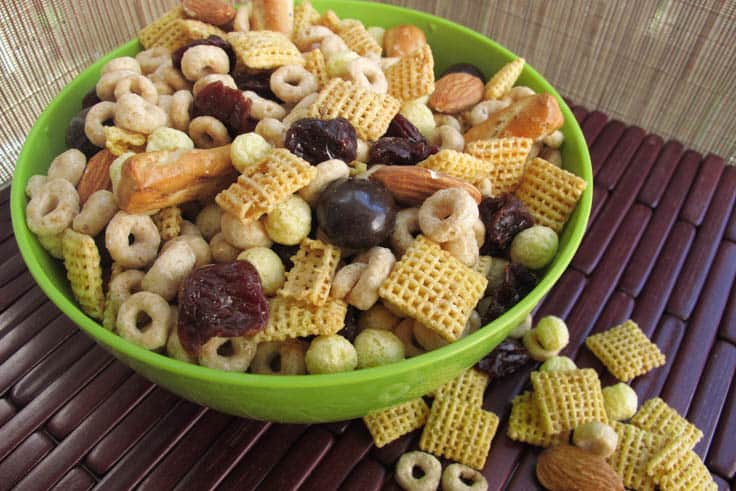 Road trips are too often crammed with fast food and junk food, at least in part because we don't have access to our own kitchens, gardens and supermarkets for sustenance. But with some forethought we can avoid most of the unhealthy and often expensive fare we encounter at drive-thrus, rest stops and gas stations, and stave off those hunger emergencies that lead us to make unwise food choices.
Whenever we travel, I pack a bag full of healthy goodies for the trip (another valuable life skill I learned from my mom, who was the inspiration behind The Scramble's menu planning system). Here are a few of my favorite road snacks:
Watch the video and subscribe to my YouTube channel:
Fresh fruit (hearty fruit like apples, pears and citrus survive long trips best)
Baby carrots and grape tomatoes
Homemade trail mix (we like a mix of unsalted or low salt peanuts, raisins and dark chocolate chips)
Pistachio nuts (flavored nuts from Santa Barbara Pistachios are the best!)
Freeze dried or dehydrated fruit
Turkey jerky (we love the natural flavor at Trader Joe's)
Granola bars or energy bars
Roasted sunflower or pumpkin seeds
Edamame
Roasted seaweed snacks
Hard-boiled eggs (keep them cool), sprinkled with curry powder and salt
Lightly salted popcorn (If I have time I make my own or buy a large bag of a healthy, reduced-sodium variety) and/or pretzels
Baggies of healthy cereal
Sugarless gum
Chocolate covered almonds or graham crackers for a sweet treat
Refillable water bottles
Napkins and an extra bag for trash
I find road trips are also an excellent time to introduce my family to new healthy snacks, as they are more adventurous when they are hungry and choices are limited. It's also a great time to polish off opened packages of food that would otherwise go bad or get stale while we're away.
On a long trip it can be fun to restock our snack bag along the way. Sometimes we discover great new treats this way, like the bag of chili flavored corn nuts we found in a gas station in Arizona, blue corn popcorn from New Mexico, and peppery buffalo jerky in Virginia. Of course, I rarely pass up an opportunity to stop at local farm stands and pick up some fresh, seasonal fruit.
Traveling can be an exciting culinary experience. If we pack our own healthy snacks we can tide our hunger over long enough to bypass the ubiquitous fast food chains that line the highways, while we make our way a little further down the road toward more interesting local fare.
P.S. If you'd like, you have all the tools you need for menu planning on your vacation.  You can print out a Scramble meal plan and grocery list for healthy meals at your destination (or just log in once you are there)!