Even if family dinners are a top priority, we all have nights when sitting down together is impossible. For those nights, having healthy on-the-go meals can be a lifesaver. Here are some of our favorites, plus tips on how to make the planning, prepping, and serving of these meals as easy as possible.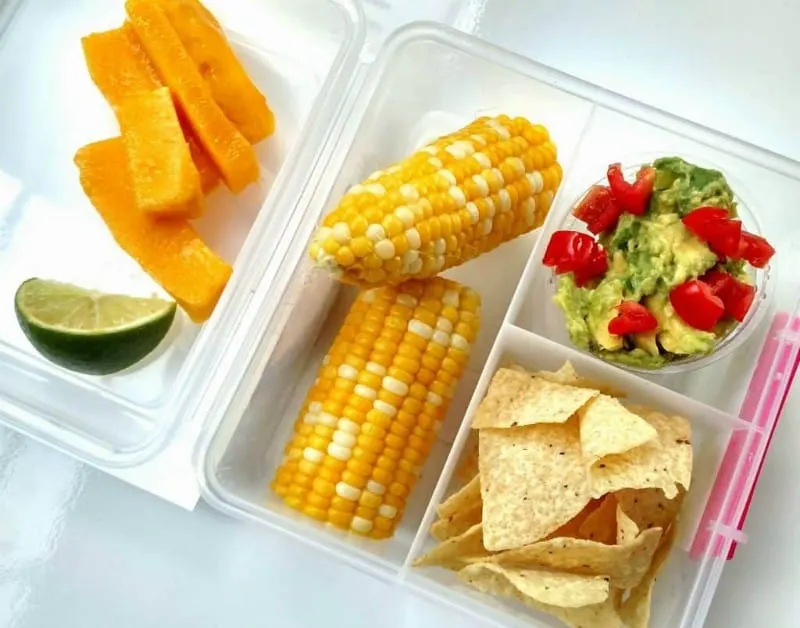 As you know if you have been following The Scramble for any length of time, I am passionate about family dinners and encourage everyone to make family meals happen at least 3 – 5 times a week. But let's be honest, even if we have the best of intentions, there are nights when having everyone sit down together is impossible.
For my family, the hardest time of the year to get everyone to the table together is the mid-spring craziness of April and May when one son has soccer practice twice a week, the other son has a guitar lesson one afternoon and band practice another, and my volunteer work kicks into high gear with lots of end-of-the-school year obligations. It is crazy town and sometimes it feels like we are ships passing in the night (well, evening really, but you know what I mean).
Even if we can't all sit down together, though, both for health and budgetary reasons, I still want to make sure everyone gets a home-cooked meal, so on the nights when we are all dashing from one thing to another, I try to make portable meals that everyone loves.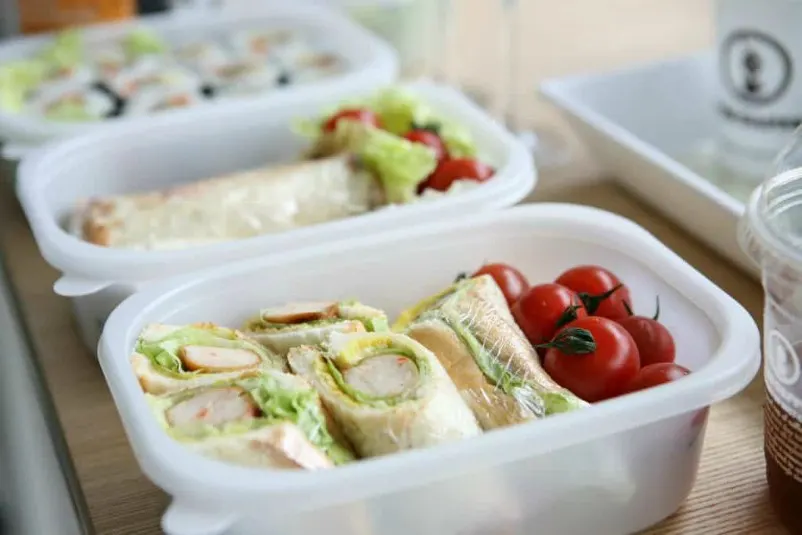 What Makes a Good On-the-Go Meal
When planning for healthy on-the-go meals there are certain criteria that I try to meet.
Ideally, they should be hand-held meals
While bringing a bento box or thermos and utensils is possible (and I have some suggestions for those below as well), I have found that it is much more likely that the meals will be completely consumed if they are hand-held.
I think this is for a few reasons. The first and most obvious is that hand-held meals are just easier to eat when you are on the move.
Another is that usually when people are on-the-go, there is a lot of activity happening around them, from driving in a car to teammates or friends being nearby. In these types of situations, I have found that my kids do better with finishing their meals when they don't have to think about it at all and as great as bento boxes and thermoses are, eating out of the does require more attention (and oftentimes balancing on a lap).
On-the-go meals should be complete
These meals are taking the place of a regular meal where you would likely make sure that you were offering protein, vegetables/fruits, grains, and more, so on-the-go meals should cover all of those bases, too, just in a convenient package.
They should be delicious at different temperatures
Since the meals will be eaten on-the-go, there is a good chance that the eater won't be able to warm up the meal, so I try to plan for meals that my family is willing to eat either warm or at room temperature. This will, of course, depend on your family's preferences, but all of the recipes I suggest below have worked well at various temperatures for my family.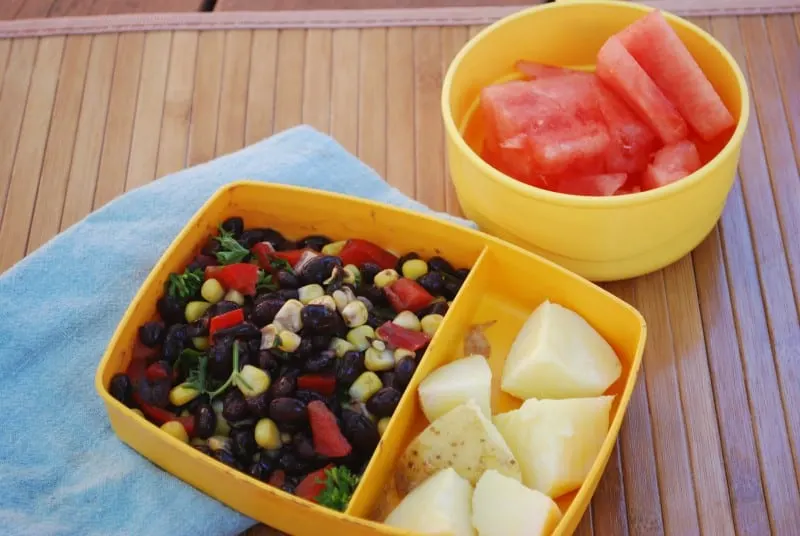 Planning and Prepping On-the-Go Meals
The irony with on-the-go meals is that while they make it easier for you to be spontaneous and flexible about where you eat, they actually require planning in order to execute smoothly. So, I want to share three different ways to approach the planning and prepping of on-the-go meals, which are based on how often you will need on-the-go meals. I recommend that you review all three and then pick the option that will best fit your family's needs.
Every Once in a While Meals-on-the-Go
If you only need to serve on-the-go meals once in a while, then I recommend picking one of the recipes from the list below during your regular weekly meal planning. As you make your selection, make sure to ask yourself whether you will prepare the on-the-go meal ahead of time or on the day of.
Preparing the meal ahead of time can either take place on the weekend or the night before. If it will be served within 5 days, you can just store the meals in your fridge for quick grab-and-go meals. If they won't be used for more than 5 days, then I recommend making a freezer-friendly recipe and freezing them until needed.
1 or 2 Meals-on-the-Go Per Week
Whether your family's schedule is busy all-year round or just for specific seasons, if you need one or two on-the-go meals per week, then I recommend coming up with between 4 and 6 favorite on-the-go recipes that you can use over and over again. That way, when you are planning your week's meals you will be able to quickly choose options for the week.
If I am dealing with more than one on-the-go meal in a week, then I like to prepare at least one of the meals ahead of time on the weekend as that will give me more flexibility.
If you want to get ahead of the game, you can also make a few of your favorite on-the-go meals ahead of time in bulk, freeze them in individual portions, and then use them throughout your busy season.
3 or more On-the-Go Meals Per Week
If your life has gotten full enough to require three or more on-the-go meals per week, then it is time to pull out the planning and prepping big guns.
In terms of planning, again I recommend coming up with 4 to 6 favorite on-the-go meals, but instead of planning out what on-the-go meal will be used on a given day, I prefer to just stock the freezer and let everyone choose their own. Why? Because, let's be honest, if your life has gotten busy enough that three or more meals of the week are being eaten on-the-go, then you don't have as much time to oversee what everyone is grabbing on a specific day.
For prepping the meals, I recommend setting aside half a day, or even a full day, on one weekend a month to prepare meals in bulk. Double or even triple your favorite recipes and prepare them in bulk. By the end of the day your freezer will be stuffed with all kinds of individually wrapped deliciousness that is perfect for all of your family's grab-n-go needs.
If you are making lots of meals in bulk, then I also recommend recruiting your family to help. Not only will it ease the burden on you, but it will also encourage more buy-in from your more skeptical eaters and allow for some fun family time that you might be missing without those family dinners.
Note on family meals: If you are in this final category, chances are finding 3 – 5 nights a week for family dinner is challenging, if not impossible, and that is OK! If you would still like to share meals together as a family, then consider using weekend meals at gathering times for your family.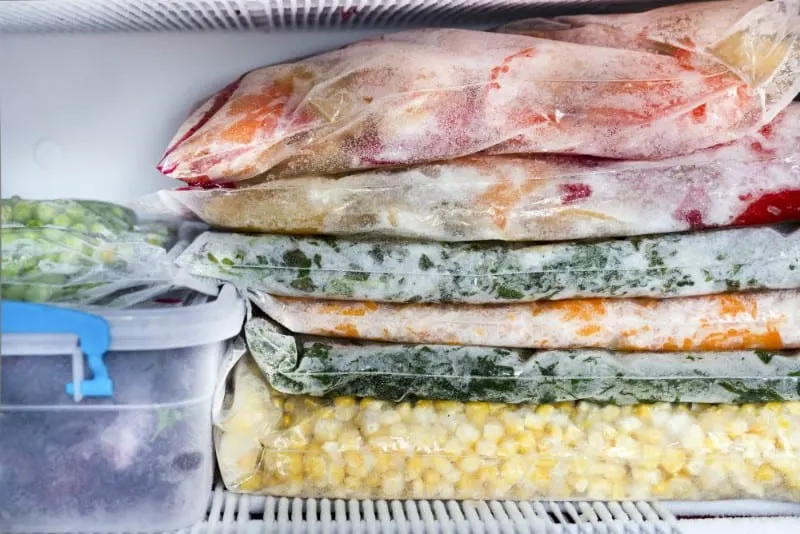 Tips on Storing On-the-Go Meals
I often get questions about how to freeze and defrost dishes, so I thought that it would be helpful to share some of my favorite freezer and defrosting tips here for easy references.
Freezing the Food
When preparing to freeze a meal, make sure it has fully cooled down to room temperate before packing it up for the freezer. This is because any remaining heat will quickly condense into water when put into the cold freezer, which will leave your food freezer-burned and less appealing.
If packing the food in containers, gently place a piece of plastic wrap over the top of the food before putting the lid on. This will help to reduce the chance of freezer burn.
If packing the food in containers without lids, gently place a piece of plastic wrap over the top of the food, then cover tightly with aluminum foil.
If wrapping up foods to freeze (such as the chimichangas, burritos, or calzones listed below), wrap each item tightly in aluminum foil and then place them together in a Ziploc freezer bag. This will allow for less freezer burn and less sticking together.
When freezing your meals, consider whether you want to freeze them in single portions to be used for quick individual meals (or even school lunches) or in larger quantities for a family dinner. Then freeze accordingly.
Reheating the Food
Make sure to remove any plastic wrap!
For burritos, chimichangas, and calzones, do not thaw ahead of time, unwrap and reheat in a microwave for 1 – 4 minutes or in a toaster oven at 350 degrees for 12 – 15 minutes.
For quiches, do not thaw, just reheat in a preheated oven for 25 – 30 minutes.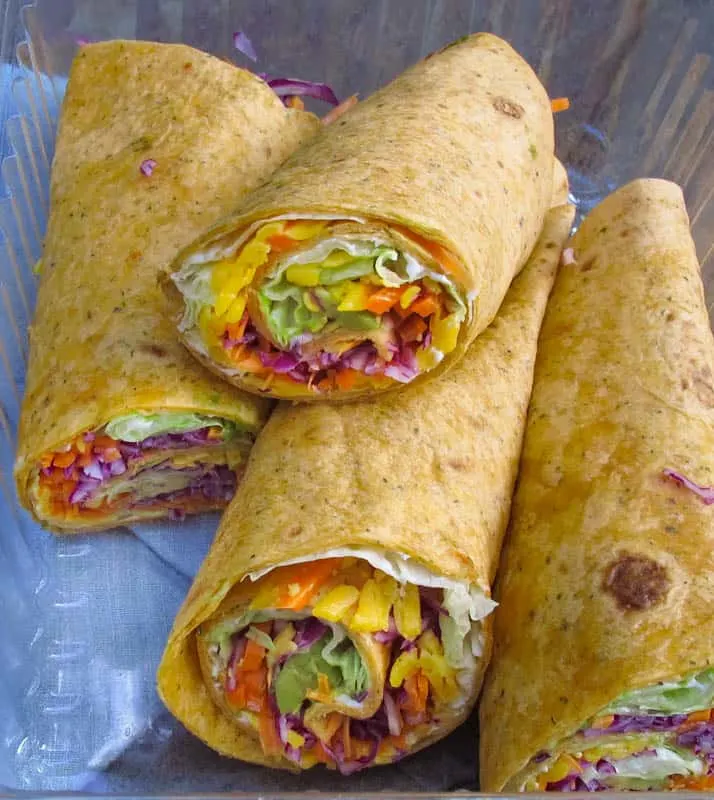 Healthy On-the-Go Meals
There are so many options when it comes to on-the-go meals. Here are some of my favorites, broken into different categories.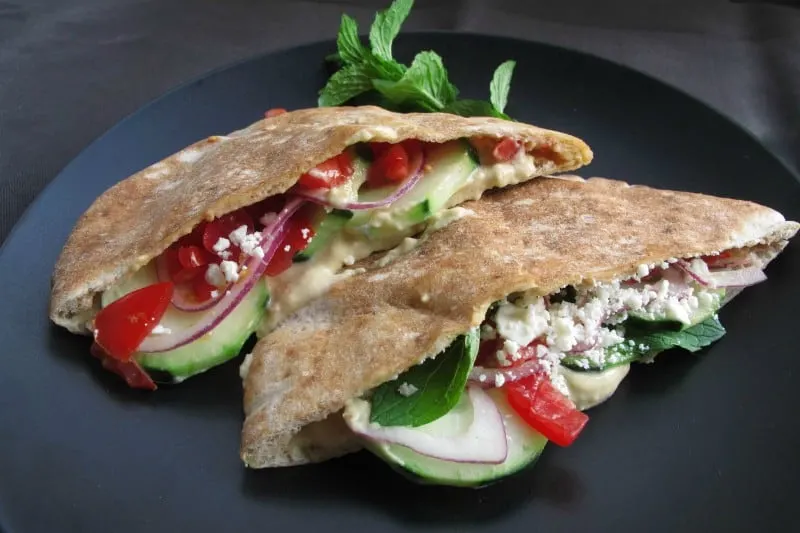 Sandwiches and Wraps
While, of course, cold sandwiches and wraps make fantastic on-the-go meals, my kids also enjoy classically warm sandwiches at room temperature, so I have included a few of those for your inspiration as well.
In terms of making ahead, for many of these options, you will want to prepare them the day of so as to keep them tasting fresh, but preparing the individual components can definitely be done ahead of time on the weekend or the night before.
Crunchy Rainbow Wraps – crunchy and refreshing, these beautiful wraps will pack in lots of veggies and flavor at once.
Tangy Tuna and White Bean Wrap – My family loves this tuna salad on its own or in wraps. I love that it can be made ahead of time and enjoyed throughout the week.
Italian Caprese Sandwiches – A summer classic of a sandwich. This one I recommend assembling on the day of, so that they don't get too soggy.
Chickpea Salad Sandwiches – This salad is super-fast to throw together and works well in wraps or as sandwiches. It will also last well in your fridge for 3 – 4 days.
Middle Eastern Stuffed Pitas – There is so much flavor and crunch to be found in these pita pockets. This is another one where you want to assemble it on the day of to prevent sogginess, but feel free to get those veggies chopped ahead of time!
Quesadillas – My sons love quesadillas at any temperature, which makes them both a lunch box favorite and a great option for on-the-go evenings. I love them because they can be loaded up with all kinds of goodies from sweet potato to spinach.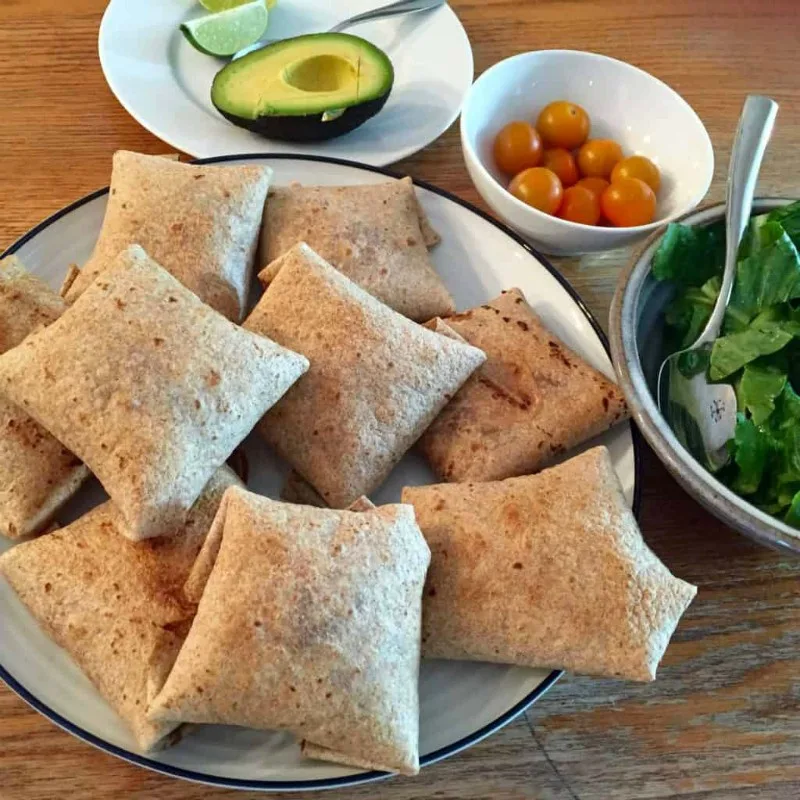 Baked Pockets
Meals that are wrapped up in pocket form and baked are an absolute favorite option for my family. I love them because I can wrap everything – vegetables, proteins, and carbohydrates – all into one nice package. My family loves them because they are packed with flavor and are delicious warm or at room temperature.
Baked Chimichangas – these are my family's #1 choice when it comes to make-ahead on-the-go meals. I fill them with whatever we've got knocking around the fridge, from leftover roasted vegetables and meat to extra greens and cheeses. They never disappoint and freeze really well.
Big Daddy's Breakfast Burritos – Packed with protein and zip, these freeze well and will keep your family happily fed.
Spinach Calzones – Another freezer-friendly meal my family loves. While they prefer them warm, they have also happily eaten them at room temperature on road trips and sports practice nights.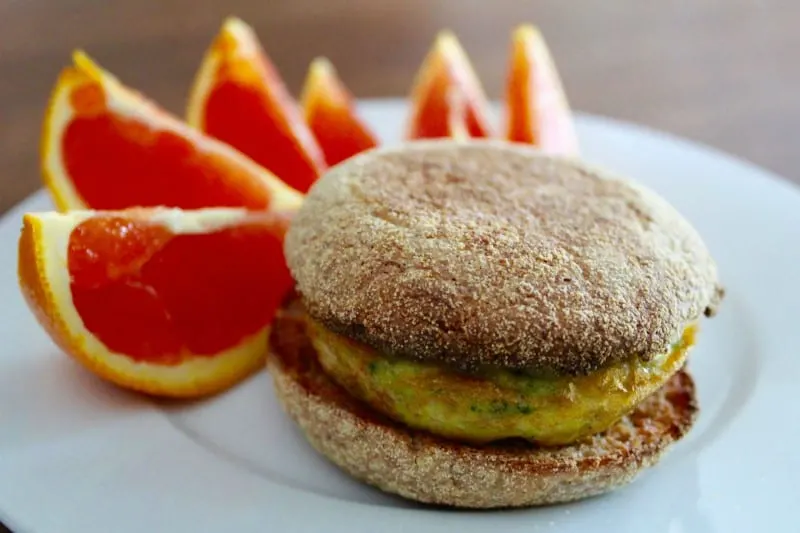 Egg-Based Meals
Quiches and frittatas are a fantastic option because they freeze well, defrost easily, and can be enjoyed warm or at room temperature.
Whole Wheat Broccoli, Mushroom, and Cheese Quiche – Make this one ahead of time and then reheat (see directions above) on the day of. Then you can just cut up slices for everyone, throw them into containers, and be out the door!
Frittata – I love to make these in mini-form for on-the-go meals, but you can also make a full one and then just slice it up. They freeze well, are delicious warm or at room temperature, and can be a great way to use up whatever ingredients you've got in your fridge.
Breakfast Sandwiches – not just for breakfast! These sandwiches give you everything you need in one nice, little package.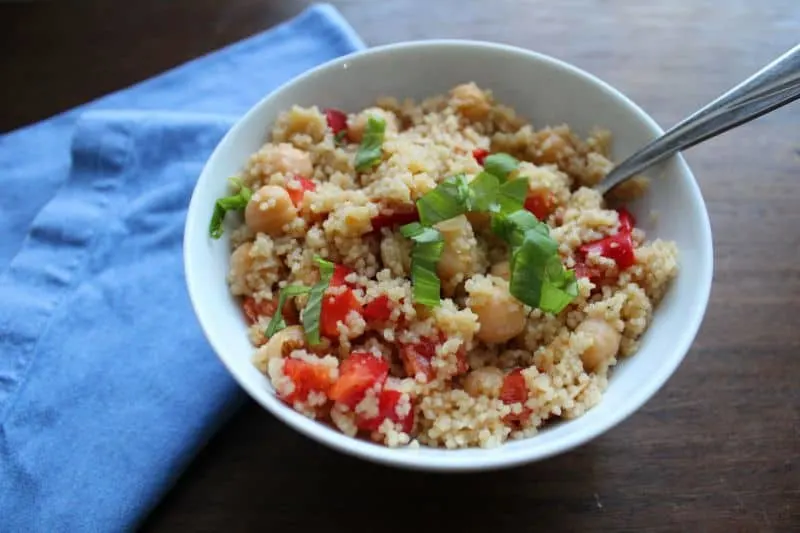 Grain Salads
Grain salads are a great way to pull everything needed for a complete meal into one dish. And the best part is that they will last up to five days in the fridge and will only get more flavorful as they sit and wait for you. I like to store them in individual containers so they are ready to grab and go.
You can use one of the recipes below or they are also a great way to use up the bits and pieces you've got left over from making other meals above – just make a grain of your choice and then toss with leftover meat or legumes, veggies (raw or cooked), diced or crumbled cheese, and a dressing of your choice.
Couscous Salad with Chickpeas and Apricot Vinaigrette – Full of textures and flavors, this is a favorite with my family.
Mediterranean Couscous Toss – This delicious salad pulls flavor elements from across the Mediterranean and Middle East, but the dish remains pretty kid-friendly. Feel free to add pre-cooked chicken or shrimp for an added protein boost.
Roasted Sweet Potato, Black Bean Salad, and Spinach with Honey-Lime Dressing – Baby spinach is a very sturdy leafy green, which makes it the perfect addition to any make-ahead salad. This one offers a lovely balance of sweet and savory, that is appealing to younger palates.
Do you have a favorite healthy on-the-go meals? I'd love to hear about them in the comments!
If you are searching for ideas and inspiration for dinner, then check out The Scramble's family-friendly meal plans.