The search for good snacks seems never ending. Here are 24 of my favorite healthy snacks for any craving that are great for kids and adults, too!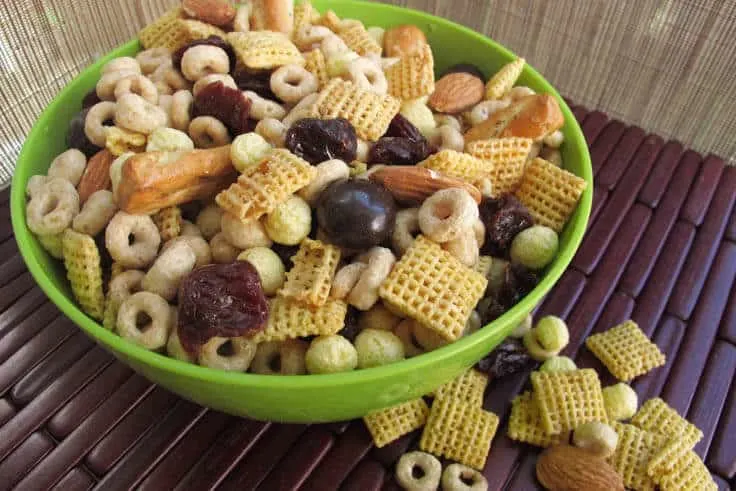 Healthy Snacks for Any Craving
You've got the home-cooked dinner thing down (hopefully The Scramble is helping you in that department. If not, check out out The Scramble's family-friendly meal plans to see how much easier getting dinner on the table can be), but what about healthy snacks?
For me, finding healthy snack foods that will satisfy my family and don't require a lot of prep, has been one of the biggest challenges. Because, let's be honest, all those beautiful snack platters and charcuterie boards on Instagram and Pinterest are inspiring, but who has time to put one of those together every day? Not me!
There are, of course, tons and tons of ready-to-eat snack options out there. Chips, bars, cookies – there are literally multiple aisles of the grocery store dedicated to quick and easy snacks. And, to keep things real, I want to be clear that I purchase at least some of those pre-made snack options for my family every week – both for convenience and because they taste good. But, I do like to also offer some healthier, less processed options and that's where this list comes in.
Over the years, I've figured out some fast and easy options that have helped me to provide quick, easy, and healthy snacks while still satisfying everyone's cravings for salty, sweet, creamy, and/or crunchy.
In an effort to help you to avoid having to go through all of the trial and error that I did, I pulled the options together into one big list of simple, healthy snack ideas for any craving. You can use this as inspiration for yourself or share it with your family to see what appeals most to them. Enjoy!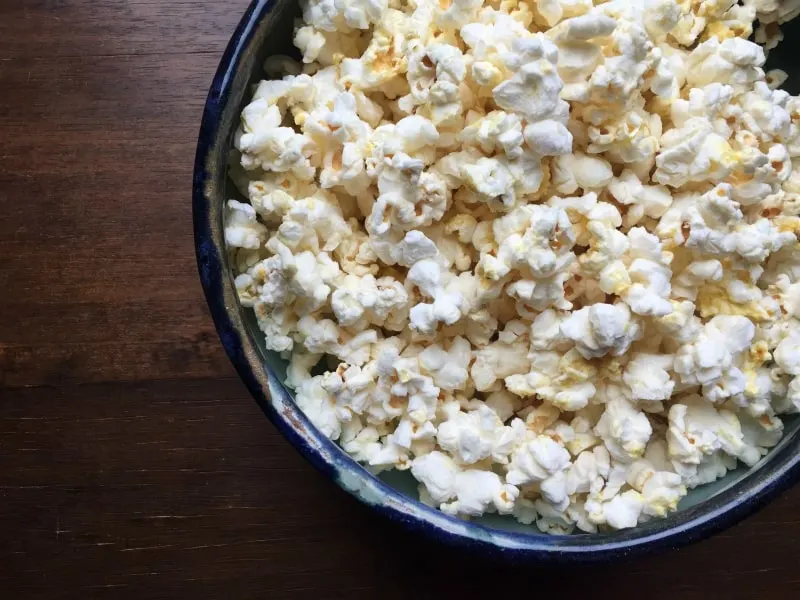 Crunchy Snacks
Crunchy snacks like chips and crackers are great, but they're often packed with sodium and sometimes artificial flavors. This group of crunchy snacks will pack that satisfying punch we crave, while also offering nutritional benefits such as fiber, vitamins, and minerals.
1. Rice cakes: A whole grain snack that's great with or without a topping. (My 14-year-old's current favorite snack is rice cakes topped with pesto and a lean protein.)
2. Apples: Who says crunchy needs to be salty? Apples offer a satisfying crunch and can be served in a myriad of ways – whole or sliced, on their own, or with a topping such a peanut butter or cheese.
3. Popcorn: Another whole grain snack that had endless topping options. Some of our favorites include nutritional yeast, chili powder, garam masala, za'atar, cinnamon. Or, you can go sweet and make kettle corn.
4. Whole grain pretzels: Salty, satisfying, and great served with or without a dip. (My 12-year-old loves to throw together a dip made with plain yogurt, honey, vanilla extract, and cinnamon to eat with his pretzels.)
5. Cut up fresh veggies: Carrots, celery, cucumbers, and bell peppers are all great options here, with or without a dip.
6. Nuts: Packed with protein, fiber, and healthy fats, nuts are a great snack to help keep you going for a while.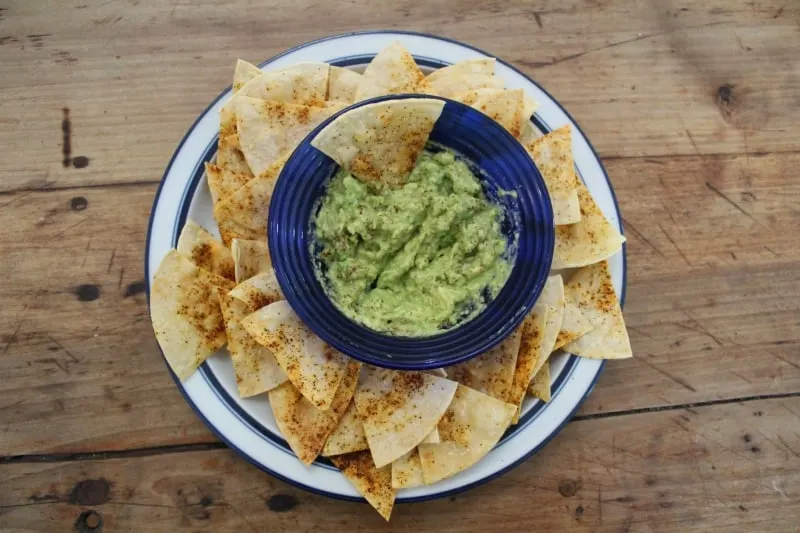 Salty Snacks
For those of us who love savory snacks, getting a nice dose of saltiness is key. And while there are lots of processed options to satisfy this craving, there are some other, healthier, options that are worth noting.
7. Olives and pickles: Tart, salty, and oh so satisfying. My boys both love these for their big flavors.
8. Salted edamame: Packed with protein and fun to eat, we always have a bag of frozen edamame in our freezer for a quick and easy snack. Just steam it in the microwave, sprinkle on some salt, and munch away!
9. Popcorn: Packed with fiber and endlessly variable (see above for toppings ideas or go here for an even more extensive list).
10. Whole grain pretzels: A classic salty snack, with or without a dip (for a savory dip option, try our tzatziki).
11. Store-bought or Homemade Tortilla chips: Serve them on their own or with salsa or guacamole.
12. Cheese & Crackers: A favorite in my house. I try to keep some whole grain crackers on hand and then the cheese options are endless – cheddar, goat, Monterrey Jack, brie, manchego, the list goes on and on.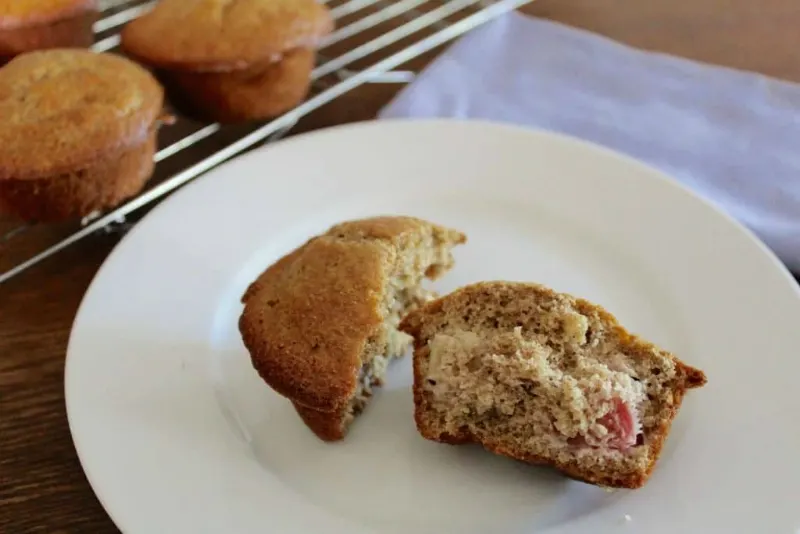 Sweet Snacks
There is no shame in enjoying sweets! And while cookies, cakes, bars, etc. are all delicious, sometimes a healthier option can actually satisfy you even more.
13. Homemade muffins: For years I made a batch of homemade muffins every weekend. We'd enjoy some on the spot and the rest I'd throw into a stockpile in my freezer for easy meals all week long (both for snacks and breakfasts). Some of our favorites include Pumpkin Chocolate Chip Cornmeal Muffins, Spinach Muffins, and see below for our popular Rhubarb Muffin recipe that's especially great in the spring!
14. Fresh fruit: It may seem obvious but fresh fruit is an option we often overlook. Sweet AND packed with nutrients and fiber, that's what I call a winner.
15. Applesauce: A shelf-stable option that you can always have on hand. Delicious on its own or mixed into plain yogurt.
16. Plain yogurt: While it's a bit tart on its own, when you mix in jelly, honey, or maple syrup you've got a lovely sweet snack with a lot less sugar than the flavored yogurts at the grocery store.
17. Roasted sweet vegetables: This is an unconventional option, but one I personally find incredibly satisfying. Sweet potato, carrots, beets, and butternut squash (make extra when you roast for dinner) are all great for munching on.
18. Dates with nut or seed butter: These babies are like little pockets of sweet and creamy goodness.
19. Smoothies: There are endless varieties here, but we love this Fruity Swirl Smoothie and our Chocolate Cherry Chia Smoothie.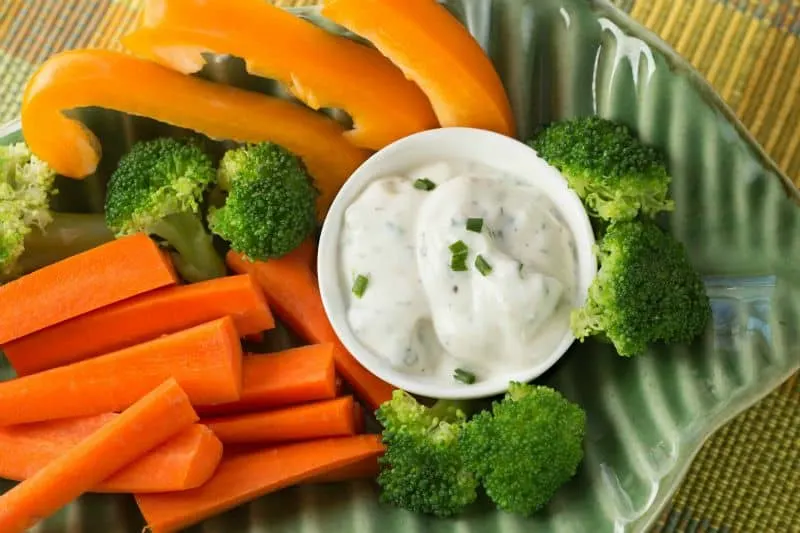 Creamy Snacks
Creamy snacks like sweetened yogurts and ice cream are super fun, but sometimes you want a lighter, healthier option. Here are my favorites.
20. Plain yogurt: Tart and creamy, plain yogurt is a favorite in our house. If you want it to be a little sweeter, try adding some jelly, honey, or maple syrup.
21. Smoothies: Especially when it includes a banana or yogurt, smoothies make a creamy, delicious, and healthy snack.
22. Avocados: Top with a little salt and/or lime juice and give it a stir, spread it on top of toast or munch on it with veggie sticks, whole grain crackers, or tortilla chips. Or, if you want to try something new, top it with sugar (the way Brazilians do!).
23. Dips: If creamy and savory is your go-to, then dips are a fantastic option! Hummus, baba ghanoush, or homemade ranch all have a lovely creamy quality that can be enjoyed with pita chips, whole grain crackers, or cut up vegetables.
24. Leftover puréed soup: For snacks, we like to serve it in a mug to make it special.
More Healthy Snack Inspiration
Want even more snack ideas? Check out our posts on how to make easy snacks without cooking and healthy after school snacks! Do you have favorite healthy snacks that don't require much work? I'd love to hear about them in the comments!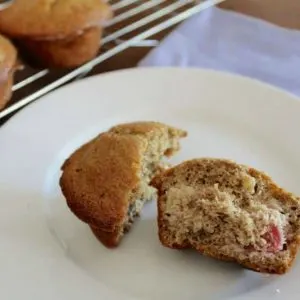 Rhubarb-Yogurt Muffins
Rhubarb is one of my favorite spring vegetables. It is only around for a short time, but when it is here I love to come up with new and different ways to use it. These muffins were an immediate hit with my family - there's something so fun about the little, tart nuggets of rhubarb sprinkled throughout.
Ingredients
1

cup

all-purpose flour

use wheat/gluten-free, if needed

1

cup

whole wheat flour

use wheat/gluten-free if needed

1/2

cup

sugar

1 1/2

tsp.

baking soda

1/4

tsp.

ground nutmeg

2

eggs

lightly beaten

1

cup

low fat plain yogurt

or use any variety

1/4

cup

butter

melted

1

tsp.

vanilla extract

1 - 2

stalks

rhubarb

chopped into ¼-inch pieces, about 1 cup
Instructions
Preheat the oven to 375 degrees and line a muffin tin with liners or spray it with cooking spray.

In a large bowl, mix the flours, sugar, baking soda, and nutmeg.

When well mixed, add the eggs, yogurt, melted butter, and vanilla and stir until the wet and dry ingredients are well combined.

Gently stir in the rhubarb.

Distribute the batter into the muffin cups and bake for 20 minutes or until a toothpick inserted into the middle of a muffin comes out clean.

Remove the muffins from the tin and cool on a cooling rack. Store in an airtight container for 2 days or freeze for up to 3 months. To reheat the muffins, microwave until warmed through or heat in the toaster oven.
Notes
Do Ahead or Delegate: Measure and combine the dry ingredients, beat and refrigerate the eggs, chop the rhubarb, or fully prepare and freeze the muffins.
Scramble Flavor Booster: Use additional nutmeg or some cinnamon.
Tip: Rhubarb, often found thought to be a fruit because of its sour-sweet taste, is actually a vegetable. Like celery, it grows as stalks that are generally bright pink. (Have no fear if the rhubarb at your store is light pink or pale green; the color is not indicative of its ripeness or sweetness.)
Like this recipe? Check out The Scramble's family-friendly meal plans to see just how simple getting dinner on the table can be!
Nutrition
Calories:
164
kcal
Carbohydrates:
25
g
Protein:
4
g
Fat:
5
g
Saturated Fat:
3
g
Polyunsaturated Fat:
0.5
g
Monounsaturated Fat:
1
g
Trans Fat:
0.2
g
Cholesterol:
39
mg
Sodium:
224
mg
Potassium:
120
mg
Fiber:
1
g
Sugar:
10
g
Vitamin A:
174
IU
Vitamin C:
1
mg
Calcium:
52
mg
Iron:
1
mg