The search for good snacks seems never ending. Here are 24 of my favorite healthy snacks for any craving that are great for adults or kids.

Healthy Snacks for Any Craving
You have got the home-cooked dinner thing down (hopefully The Scramble is helping you in that department. If not, check out out The Scramble's family-friendly meal plans to see how much easier getting dinner on the table can be), but what about healthy snacks?
For me, finding healthy snack foods that will satisfy my family and don't require a lot of prep, has been one of the biggest challenges. Because, let's be honest, all those beautiful snack platters on Instagram and Pinterest are inspiring, but who has time to put one of those together every day? Not me!
Over the years I have figured out some fast and easy tricks that have helped me avoid potato chips, cheese curls, yogurt tubes, and Kind Bars (although we still do enjoy those from time to time!) while still satisfying everyone's cravings for salty, sweet, creamy, and/or crunchy snacks..
So I wanted to share some simple healthy snack ideas for any craving. Happy Snacking!
Crunchy Snacks
1. Apples: whole or sliced, on their own or with a topping such a peanut butter or cheese.
2. Rice cakes: A whole grain snack that is great with or without a topping.
3. Popcorn: Another whole grain snack that had endless topping options (some of our favorites include nutritional yeast, chili powder, garam masala, za'atar, cinnamon, and NanoSalad) or go sweet and make kettle corn.
4. Whole grain pretzels: Salty and satisfying and great served with or without a dip.
5. Cut up fresh veggies: carrots, celery, cucumbers, and bell peppers are all great options here, with or without a dip.
6. Nuts: packed with protein, fiber, and healthy fats, nuts are a great snack to help you going for a while.
Salty Snacks
7. Olives and pickles: tart, salty, and oh so satisfying.
8. Salted edamame: packed with protein and fun to eat!
9. Popcorn: packed with fiber and endlessly variable.
10. Whole grain pretzels: a classic salty snack, with or without a dip.
11. Store-bought or Homemade Tortilla chips: serve on their own or with salsa or guacamole.
12. Cheese & Crackers: a favorite in my house. A little goes a long way.
Sweet Snacks
13. Homemade muffins: like these Pumpkin Chocolate Chip Cornmeal Muffins or Rhubarb-Yogurt Muffins (plus they make great options for breakfast or school lunches, too!). And see below for our hugely popular Spinach Muffin recipe!
14. Fresh fruit: sweet AND packed with nutrients and fiber, that's what I call a winner.
15. Applesauce: a shelf-stable option that you can always have on hand. Delicious on its own or mixed into plain yogurt.
16. Plain yogurt: while it is tart on its own, when you mix in jelly, honey, or maple syrup you've got a lovely sweet snack.
17. Roasted sweet vegetables: sweet potato, carrots, and butternut squash (make extra when you roast for dinner) are all great for munching on.
18. Dates with nut or seed butter: like little pockets of sweet and creamy goodness.
19. Smoothies: there are endless varieties here, but we love this Fruity Swirl Smoothie and our Chocolate Cherry Chia Smoothie.
Creamy Snacks
20. Plain yogurt: tart and creamy, plain yogurt is a favorite in our house. If you want it to be a little sweeter, try adding some jelly, honey, or maple syrup.
21. Smoothies: Especially when it includes a banana or yogurt, smoothies make a creamy, delicious, and healthy snack.
22. Avocados: top with a little salt and/or lime juice and give it a stir, spread it on top of toast, or serve it with a little sugar (the way Brazilians do!).
23. Dips: hummus, baba ghanoush, or homemade ranch (see below) all have a lovely creamy quality that can be enjoyed with pita chips, whole grain crackers, or cut up vegetables.
24. Leftover puréed soup: For snacks we like to serve it in a mug to make it special.
More Healthy Snack Inspiration
Want even more snack ideas? Check out our posts on how to make easy snacks without cooking and healthy after school snacks! Do you have favorite healthy snacks that don't require much work? I'd love to hear about them in the comments!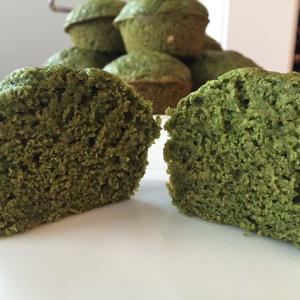 Spinach Muffins
When I first started making these a couple of years ago, my then-5-year-old asked if he could have them as his birthday cake because he loved them so much! I have used this recipe in kids cooking classes with many a spinach-hater and have yet to find one who didn't love these.
Ingredients
2

cups

whole wheat flour (use wheat/gluten-free all-purpose flour, if needed) or use spelt flour, I like the white whole wheat from King Arthur Flour

1/2

cup

sugar

2

tsp.

baking powder

1 1/2

tsp.

cinnamon

1/2

tsp.

baking soda

1/2

tsp.

salt

1/4

cup

butter or margarine

melted

3/4

cup

milk

use any kind you have

6

oz.

baby spinach

1

banana

2

tsp.

vanilla extract
Instructions
Preheat oven to 350 and grease or a muffin tin.

In a large bowl, whisk together the flour, sugar, baking powder, baking soda, cinnamon, and salt. Set aside.

Melt the butter.

In a food processor or blender, mix the milk, spinach, and butter until it is completely pureed. Add the banana and vanilla and blend until just mixed.

Pour pureed mixture into the dry ingredients and stir with a spatula until completely combined. Fill muffin cups about 2/3 full and baking 18-20 minutes.
Notes
Nutritional Information Per Serving (% based upon daily values): Calories 115, Total Fat: 4g, 5.7%; Saturated Fat: 3g, 14%; Cholesterol: 1mg, 0.3%; Sodium: 180mg, 7.7%; Total Carbohydrate: 19g, 6.3%; Dietary Fiber: 3g, 10.8%; Sugar: 7g; Protein: 2g
Like this recipe? Check out The Scramble's family-friendly meal plans to see just how simple getting dinner on the table can be!