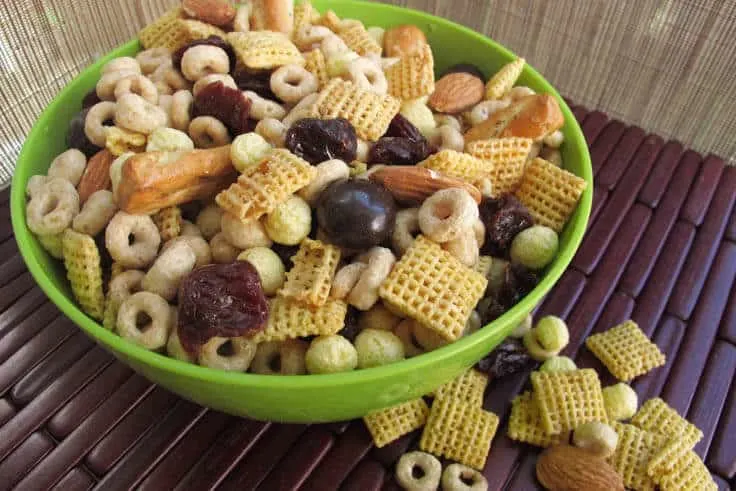 I don't know about how it works in your house, but in mine the boys get home from school and the first thing out of their mouths is, "can I have a snack?" Coming up with healthy(ish) ideas that will get them through until dinner can be a challenge, so I pulled together a list of some favorite after school snack ideas to help keep you sane.
Why After School Snacks Are Different from Other Snacks
Over the years, I have come to understand that there are different kinds of snacks: snacks that are meant to satisfy a craving or to ease a light hunger and those that are meant to sustain you so that you can accomplish more before your next full meal. When it comes to after school snacks, they definitely fall into the second category. After school snacks need to be sustaining.
From my experience, when kids get home from school they are hungry (sometimes because it has been hours since they last ate, sometimes because lunch periods are so short that they can't finish their lunches, and sometimes because they're going through a growth spurt and are always hungry). But they are also more than hungry, they are physically and mentally exhausted.
In addition, their days are not yet over. There is homework to do, sports practices or lessons to be had, and hopefully some play time as well. In other words, they are going to be busy and need sustenance that will get them through.
Because of the exhaustion and hunger that is already brewing, however, over the years I have learned that after school snacks are not a great time to go to battle over foods. And while well-balanced and beautiful snack platters will definitely entice the crew (and may very well get eaten), I rarely have the time to pull together such creations in the afternoon, so instead I have come to embrace easier-to-pull-together healthy(ish) options that they will enjoy and I can feel good enough about.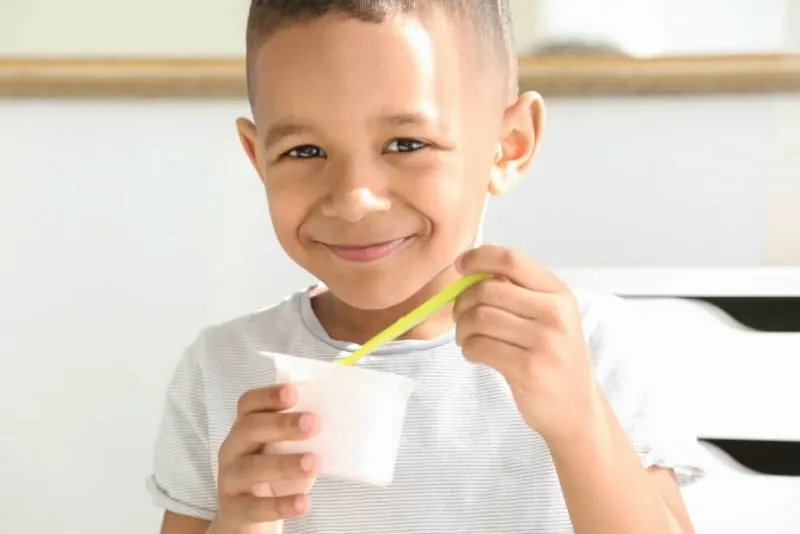 What Makes a Successful Healthy(ish) After School Snack
For me, a healthy(ish) snack is usually made up of a combination of wholesome ingredients that will fill bellies until dinner time (e.g., whole grains, fruits and vegetables, and/or protein) and something fun that makes the dish feel at least a little special.
In addition, a successful after school snack should be very easy to throw together because, let's be honest, the afternoons are often just as crazed as weekday mornings. In fact, now that my kids are older, my ideal after school snack is one that they can make or grab for themselves.
25 After School Snack Ideas
Here are some tried and true after school snacks that your kids are bound to enjoy. If you want, you can sit down with your kids to go through this list together and see which options are most appealing for your crew.
1. Graham crackers with (unsweetened) peanut butter
2. Nuts and dried fruit (raisins, cranberries, mango, prunes, apple, pineapple, etc.) or trail mix (add whole grain cereal, if desired)
3. Quesadillas (melted cheese on whole wheat or corn tortillas)
4. Popcorn, homemade or store bought (look for brand that is low in sodium and fat)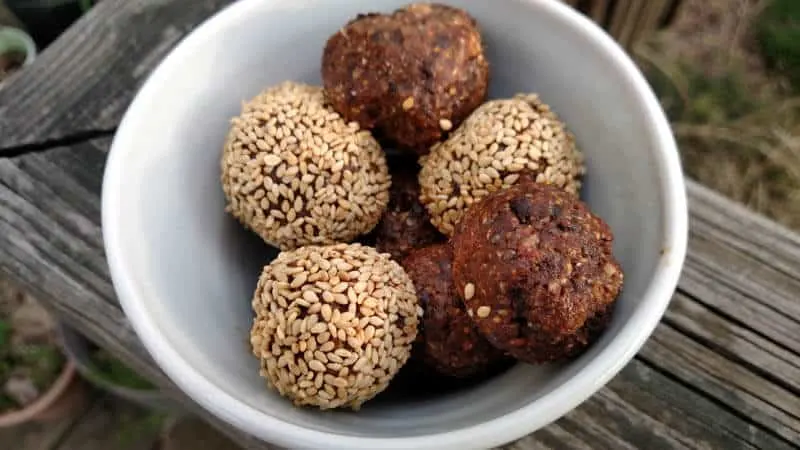 5. Fudgy Figgy Balls (make a batch of these with your kids on the weekend to enjoy all week)
6. Tortilla chips and salsa or guacamole
7. Muffins or breads, such as banana, spinach, pumpkin, corn, or zucchini (you can make a batch and freeze them)
8. Hummus with pita, crackers, pretzels, or veggies
9. Hard-boiled or deviled eggs
10. Sliced avocados with wheat crackers
11. Edamame in the shell, sprinkled lightly with sea salt
12. Scrambled or fried egg and salsa wrapped in a whole 
wheat tortilla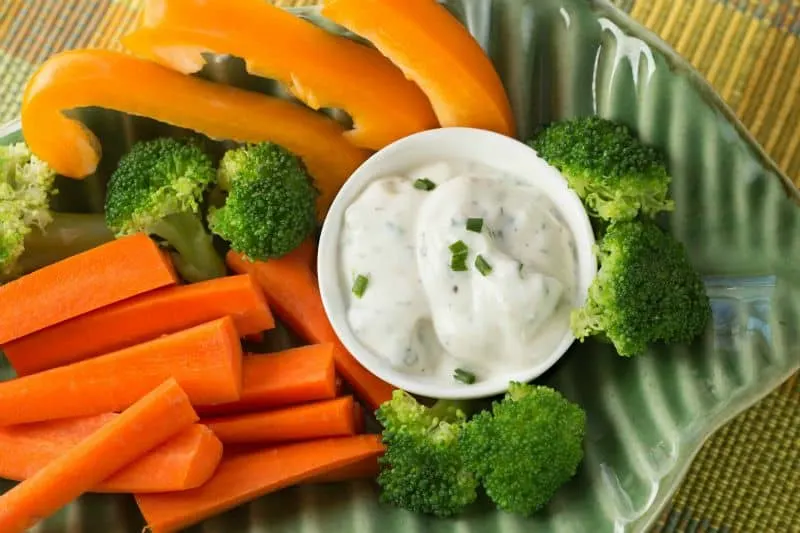 13. Veggie platter with a favorite dip (hummus, ranch, etc.)
14. Peanut Butter Bites (another great one to make with your kids over the weekend to enjoy all week long)
15. Warm black beans topped with Cheddar cheese and salsa.
16. Apple or pear slices with Cheddar cheese, Gouda, or peanut butter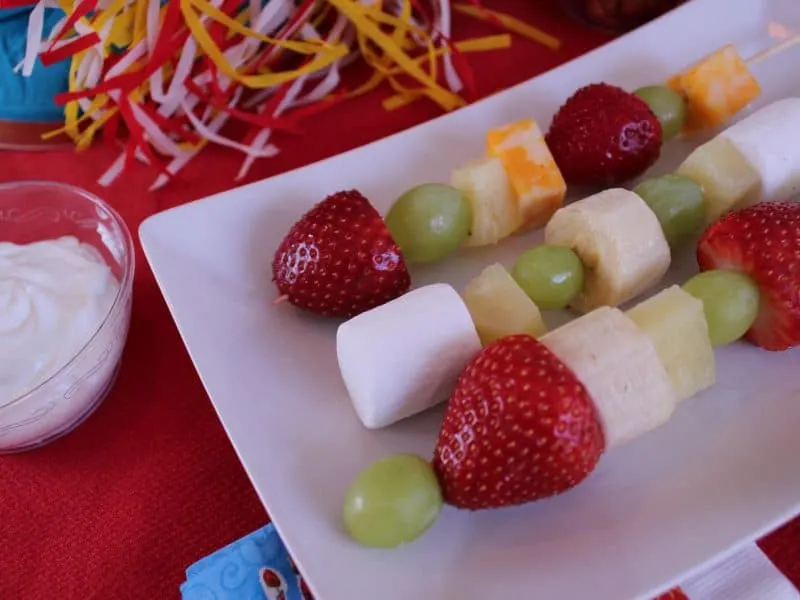 17. Fruit Kabobs with vanilla or plain yogurt for dipping (optional)
18. Roasted Seaweed Snacks
19. Dark chocolate covered almonds and pretzels
20. Fresh fruit with some cheese on the side (Laughing Cow and Baby bel are snack time favorites in our house)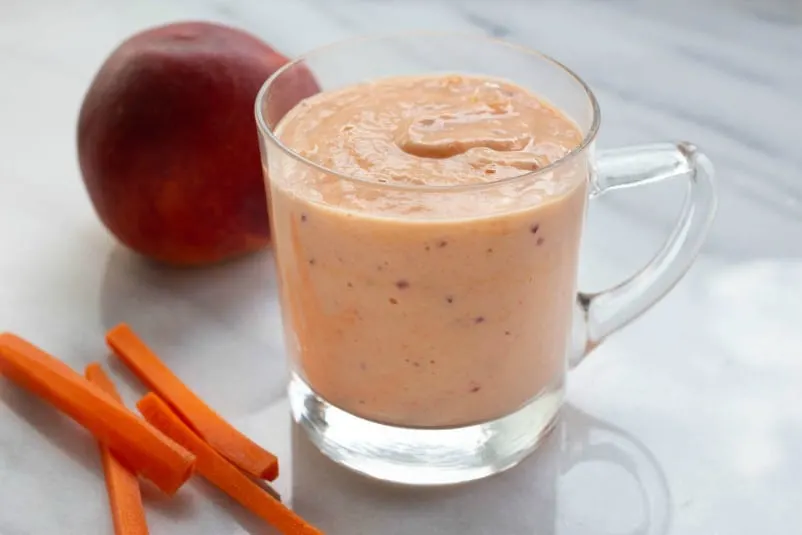 21. Smoothies: combine fresh and/or frozen fruit, fruit juice and kefir/yogurt, soy milk, or almond milk. Add chia seeds, whey protein, spinach or kale, if desired
22. Pretzels and peanut butter
23. Nachos! Tortilla chips topped with shredded cheese and refried beans or chopped up vegetables, heated under the broiler or in the toaster oven.
24. Cheese and whole wheat crackers
25. Pretzels and fruit with simple sweet yogurt dip (plain yogurt, a drizzle of honey, a sprinkle of cinnamon, and a dash of vanilla extract, mixed together)
Want more snack ideas? Check out our posts on healthy snacks for any craving and how to make easy snacks without cooking.
Like this article? Try our free trial to see just how simple feeding your family can be!
Please share your ideas by leaving a comment below.