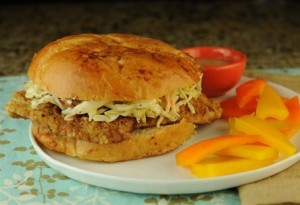 If you are a parent (or even a partner or spouse), chances are you've had to cope with a picky eater at some point. Dealing with picky eaters would be so much easier if they all liked or disliked the same foods, but while the foods they will eat are often limited, they can vary widely from picky eater to picky eater. For example, I knew a child who would only eat 5 foods and his list included fish eggs and olives!
In the past, I've shared lots of advice about coping with picky eaters including what has worked for us. Occasionally Scramblers ask us to suggest meals that are best for picky eaters. We've wondered how best to do this because of the varied preferences. (If you have any ideas, we're always interested! Please share them on Facebook, Twitter or by sending an email to jessicab@thescramble.com.)
One Scrambler, Carli Walker, comments: "I find that my picky 4-year-old is much less picky when he helps make dinner. One of the reasons we love The Scramble is that the meals are easy and there is so much he can help with. His favorites are a toss up between Chinese Lo Mein and the Chicken Parmesan with Garden Herbs."
Recently, I asked Scramblers to share their picky eaters' favorite Scramble meals. If you are coping with a picky eater, I recommend that you continue to cook and serve a variety of foods rather than catering too strongly to their whims, and involve them in cooking and food prep as much as possible. I also want to share with you a list of Scramble recipes that other parents with picky eaters recommend (I was surprised none of them mentioned any of our macaroni and cheese, chicken nuggets or pizza recipes!). You can add any of these to your weekly or custom menus, and please let me know how they go over with your picky eater(s):
30 Best Recipes for Picky Eaters
1. Baked Flounder With Parmesan Crust
2. Baked Turkey And Corn Burritos
3. Cajun Fish Sandwiches with Crunchy Slaw
4. Cheesy Tortilla Pie
5. Chicken Parmesan with Garden Herbs
6. Chips Ole
7. Cornmeal Crusted Catfish
8. Crispy Baked Taquitos
9. Farmer's Market Pasta With Sweet Corn And Tomatoes
10. Flawless Roast Chicken With Sweet Onions
11. Garden Quichelettes
12. Lemony Greek Chicken
13. Herb Roasted Chicken
14. Lentil And Cheese Casserole
15. Mumbai Meatballs
16. Rigatoni with Mushrooms, Marsala and Mascarpone
17. North Of The Border Veggie Chili
18. Not My Mom's Sloppy Joes
19. Pad Thai
20. Panzanella
21. Turkey Parmesan Meatloaf
22. Pulled Pork Sandwiches
23. Rosemary-Garlic Pork Roast
24. Salmon with Maple-Soy Glaze
25. Sesame Noodles With Peas
26. Spiced Chicken With Maple Butter Glaze
27. Sweet Potato Pie
28. Sweet Potato Quesadillas
29. Teriyaki Noodle Stir-Fry
30. Giant Smoked Turkey And Cheddar Omelet
Please let us know what Scramble recipes you would add to this list of best recipes for picky eaters.