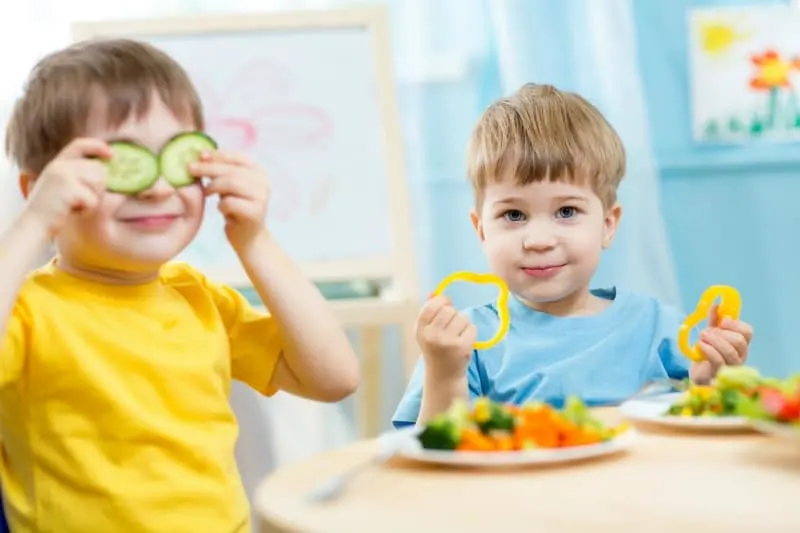 Thank you to NanoSalad for sponsoring this post. All opinions are my own.
Whenever I give workshops on how to raise healthy and happy eaters (if you want me to visit your community to speak about this or other issues related to cooking for and feeding your family, please get in touch!), one of the questions that I get every time is: how do I get my kid to eat fruits and vegetables?
It is a common source of stress and strain for parents. If I am being fully honest, even though I reassure parents that it will all work out (and I truly believe that it will), there are days when even I get stressed about my kids' fruit and vegetable intake.
Given that this is a reality for so many of us, I wanted to share some tips on how to get your kids to eat fruits and vegetables without fights, as well as share about NanoSalad, a product that has just arrived on the market and has brought me an incredible amount of peace of mind when my kids won't eat fruits or vegetables. Read on for ideas and tips on how to get your kids to eat vegetables and fruit, and a special deal from NanoSalad.
First Step, Relax
When my youngest son was in his picky phase and I was worried about his growth, I went into full on research mode, searching for tips, ideas, and answers that would allow us to shift the negative dynamic that was rapidly developing when it came to mealtimes.
Of all of the information that I learned at the time, there was one fact that truly allowed me to relax more than any other: children between the ages of 2 and 8 are the LEAST likely to fall short on key nutrients.
Furthermore, I found an amazing table on Raise Healthy Eaters that showed how much of each category of food kids need at different ages. This table made me weep with relief. I'm not kidding.
For instance, did you know that a serving of vegetables for a kid aged 4 – 8 is only 3 – 4 Tbsp? Or that for a 2 – 4-year-old they only need half of a small piece of fruit (apple, peach, etc.) in order to get a full serving?
Once I saw these numbers I found that I was able to respond more calmly when my sweet boy turned into the stubborn toddler who refuses to eat fruits and vegetables.
Offer Fruits and/or Vegetables at Every Meal
A tip that I give people at my workshops is to make sure to serve some sort of fruit or vegetable with every meal (including snacks). This could be some apple sauce, vegetable sticks, mashed sweet potato, or even canned fruit.
Why is this so helpful? Because, going back to the small amounts they actually need, even if they only take a few bites at each meal or skip the fruits and vegetables all together at a meal or two, because they have been consistently offered vegetables and fruit throughout the day, they will be in good nutritional shape.
Now, as you probably know, I am a huge proponent of reducing food waste, so I don't want you to feel like you have to keep offering and then tossing different produce (that is both expensive and wasteful, and who wants that).
Instead, I recommend serving just a little bit and then you can always offer more. A little bit might look like three strawberries, one piece of celery topped with peanut butter, a half glass of smoothie, or a tablespoon of frozen berries mixed into some plain yogurt.
In addition, you can always repurpose what is offered. For instance, leftover carrot sticks can be chopped up and added to a salad at dinner and remaining fruit can be bagged up and frozen to be added to a smoothie at some later date.
Make it Easy to Eat
One of my favorite tricks for getting my kids to eat fruits and vegetables is to offer them in an easy-to-eat way.
For example, I'll put out some vegetable sticks and hummus or ranch dressing or I'll slice up an apple rather than offering a whole one, so that it is less overwhelming. I am always staggered by how much they'll eat when it is served in bite-sized and graze-friendly ways.
Keep it Easy for You
Let's be realistic, though, offering fruits and vegetables repeatedly throughout the day can end up feeling like a burden. This is especially true when your kid won't eat vegetables or fruit – offering over and over again and having them rejected can really feel like an overwhelming struggle. So, here are some of my favorite ways to make it easier for everyone:
Pre-Make Smoothies
You can make them ahead of time and refrigerate (you'll need to give them a good shake before serving) or freeze them. Added perk: frozen smoothies are super fun to eat as popsicles if you freeze them in silicone tubes (you can find my favorite version in The Scramble Store).
Pre-chop raw vegetables for the week
Carrots, cucumbers, bell peppers, and celery sticks will all last well for a week or so chopped up and stored in the refrigerator. That way you (or they!) can just grab and serve.
Apple sauce and fruit cups
Both of these are great for those times when you can't put in the effort, just make sure you get the no sugar added varieties.
Puree into sauces
When you are heating up a marinara sauce, throw in some frozen broccoli or spinach and then puree. I bet no one will notice a difference but you'll feel better knowing that they are getting more vegetables (bonus tip: if they like the sauce, then make sure to tell them what was added in as this may encourage them to try that food again in the future).
NanoSalad: The New Product That Makes This All Even Easier!
As I enter my 12th year of parenting (how did THAT happen?!), one of the things that I have noticed is that, as with many things, my kids' intake of fruits and vegetables fluctuates quite a bit. When they are going strong, I can't keep enough produce in the house, but when they aren't so keen on the options, I can start to get anxious.
I try my best not to get pushy, since I know that doing so will only encourage tension and discord around food, which is something I do not want to have happen. But sometimes I will notice myself reminding, encouraging, and cajoling just a little bit too much and the last thing I want to be when it comes to food is a nag.
And that is why I was SO excited when I was introduced to NanoSalad and then discovered that my kids really like it!
Now, when my kids are going through one of their phases, I pull out the NanoSalad and it helps me to not get so pushy because I know that I am including vegetables and fruit into their diet in a way that isn't causing tension.
What Is NanoSalad?
Since it is an entirely new product, I thought it would be helpful to explain. NanoSalad is vegetables and fruits that have had all of the moisture removed and their size reduced by 20 times! It is then ground up and resembles a seasoning blend, kind of like Mrs. Dash, but packed with plant-based nutrition.
You can then sprinkle it on pretty much anything to boost your fruit and vegetable intake. While you won't get the full benefit of the fruits and vegetables in their natural state (NanoSalad encourages their customers to use this in addition to serving regular fruits and vegetables), you do get the fiber (about 18 times denser than bran cereal), much of the nutrition, and increased satiety (the added fiber slows down digestion).
Some other great things about NanoSalad include:
It is 100% fruits and vegetables. In other words, there are no additives, including salt or sugar, or preservatives
It is organic. So, if that is a priority for you, they've got you covered
It has a very mild taste that you can barely (if at all) detect, although my kids now refer to it as "the veggie seasoning" and LOVE it
They have two versions: vegetable and fruit
It can be cooked or eaten raw
Can reduce food waste: 6 month shelf life vs 6 days for bagged greens
It is great to bring when traveling or out for a long day
How Do You Use NanoSalad?
You can sprinkle it anywhere! The Savory Mix is great to use on really any savory dish (think burgers, pizza, pasta, casseroles, soups, etc.). The Fruit Mix one is awesome on cereal, oatmeal, yogurt, even smoothies.
You can bake with it! Mix either version into muffins, cookies, or waffles.
You can use it as a seasoning! I have started including it in our almost daily after school popcorn (check out the recipe below) and my kids love it sprinkled on top of "cheesy toast" (a slice of bread topped with grated cheese and then toasted).
How to Get NanoSalad
You order it online! Plus, my friends at NanoSalad have put together a very special offer exclusively for followers of The Scramble (open to US residents only). Right now, you can get a FREE sample pack to try it out (they have generously offered to create a special half Savory Mix and half Fruit Mix trial pack just for Scramble followers, so you can try both!).
Get your FREE sample pack of NanoSalad today! It really will help to reduce your worries about getting your kids to eat fruits and vegetables! And then you can use the recipe below to try it out with your family.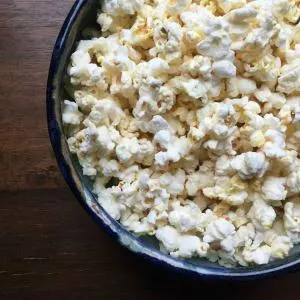 Savory Surprise Popcorn
My boys and I enjoy popcorn almost every day as an after school snack and this is now our go-to version. The other day, my 11-year-old had a friend over and as I was getting ready to make popcorn, he said, "can you please make the version with that new amazing spice?" He meant the NanoSalad!
Ingredients
2/3

cup

popcorn kernels

2

Tbsp.

butter or margarine

melted

1

Tbsp.

nutritional yeast

or more to taste

2

tsp.

NanoSalad

or more to taste

½

tsp.

kosher salt, sea salt, or another coarse salt

or more to taste
Instructions
Pop the popcorn on the stove, in an air popper, or in a brown paper bag in the microwave.

Toss the popcorn with the melted butter or margarine and then with the nutritional yeast, NanoSalad, and salt.