Sweet potatoes are a nutritional powerhouse that offers up so many fun and delicious options. Check out our tips on how to cook sweet potatoes, foods that go well with them, and Scramble sweet potato recipes you'll love.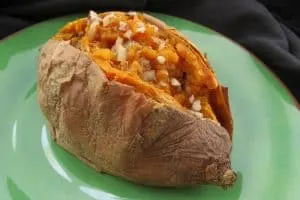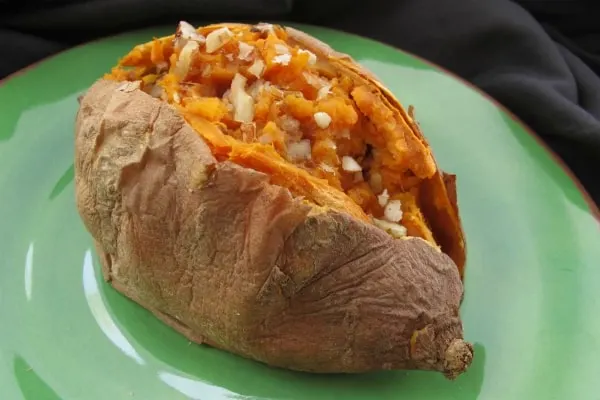 Sweet Potatoes: A Favorite Fall and Winter Food
This week the farm share or CSA (community support agriculture) that my family has belonged to for 10+ years ended for the season. It is always a tough transition to go back to the grocery store produce. Not that the options are terrible, but the quality just doesn't compare to the super fresh options that we get to choose from during CSA season. Even with the transition, though, I still try my hardest to stick to eating seasonally. At this time of year that means shifting from summer squash to winter squash, from plums (yes, we had them up until two weeks ago at the CSA!) to pears, and from sweet corn to sweet potatoes. So I wanted to share tips on how to cook sweet potato and recipes that will inspire you to try these nutritional powerhouses in some new ways.
Of all of the fall and winter produce, sweet potatoes are one of my favorites. To me, they are like a slightly sweet, super nutritious blank canvas and the possibilities are endless. So in addition to sharing some sweet potato recipes with you, I also wanted to offer some really cool nutritional facts about them (just in case you need to some motivation to include more sweet potatoes in your diet), tips on how to cook sweet potatoes, and some of my favorite ingredient pairings, so that you can start to experiment, too.
Sweet Potatoes: A Nutritional Powerhouse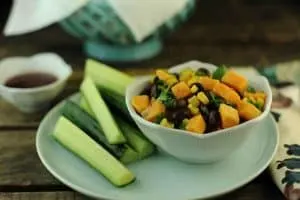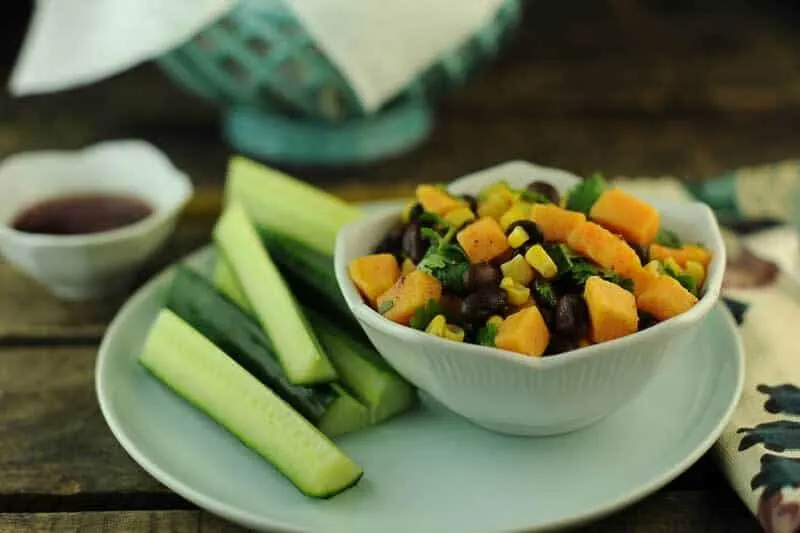 Sweet potatoes are known as a "superfood" for good reason—they are packed with all kinds of goodness. Here are just a few nutritional facts for you:
they are rich in Vitamin C, which helps with building up our immune systems, maintaining youthful looking skin, and digesting our food
they are a good source of Vitamin D, which we hear so much about these days! Vitamin D helps stabilize our mood, increase energy, and build healthy bones, teeth, and heart
they are wonderful for their iron content, which helps with energy and immune support
they are great for magnesium, the anti-stress mineral. And who doesn't need that?!
they are a wonderful source of potassium, which helps to maintain our electrolyte balance and reduce swelling
they are high is carotenoids (beta carotene, for example), which help ward off cancer and also slow aging.
they are packed with fiber, which helps us to stay full longer, have healthy digestion, and maintain steady energy
they are sweet but don't give you a sugar rush. This is important for maintaining a healthy blood sugar level, which we all need help with!
A Blank Canvas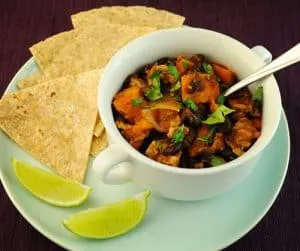 One of the things that I love about sweet potatoes, aside from their flavor and nutritional heft, is that they are very forgiving to cook with and pair with all kinds of different flavors. Here are tips on how to cook sweet potatoes and foods that go well with them so that you can see how sweet potato recipe options are really endless.
Tip: If cutting up a sweet potato is a challenge for you, check out our video on how to cut a sweet potato, which will save you time and effort.
How to Cook Sweet Potato
Sweet potatoes can be prepared in a variety of ways. Here are some of my favorites.
Raw
Shred sweet potato and enjoy it raw in wraps, salads, and summer rolls.
Sautéed
Sweet potato can be sautéed easily. Just add a little extra virgin olive oil, coconut oil, or butter to a skillet and sauté diced or shredded sweet potatoes. They are ready surprisingly quickly, in 5 – 15 minutes (shredded will cook faster than diced).
Mashed
If you are a fan of mashed potatoes, then definitely give mashed sweet potatoes a try. Steam them as you would russet potatoes and then mash them with some butter, sour cream or plain yogurt, salt, pepper, and maybe a dash of cinnamon. Delicious!
Roasted
This is probably my favorite way to cook sweet potatoes. Preheat the oven to 425 degrees, dice them up, toss them with some olive oil, salt, pepper, and any other seasonings you want, and then spread them evenly on a baking sheet. Roast for 30 – 35 minutes, until tender. I really love them when they are starting to get a little crispy on the outside!
Note: You can also use this roasting technique to make sweet potato fries. Just cut them into French fry shape, spread them out in a single layer with some space in between, and roast away.
Baked
Move over baked potato, there is another option in town. These can make a wonderful side dish or a hearty meal when topped with fun toppings. (Check out our post with 15 topping ideas for baked potatoes for lots more inspiration!)
Toast
One of the new and trendy ways to eat sweet potatoes is as toast. Check our our video and guide for how to make sweet potato toast.
Foods to Eat with Sweet Potatoes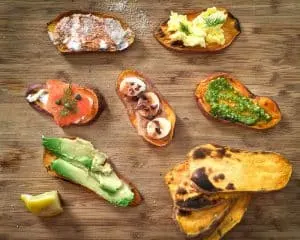 Many people tend to think of sweet potatoes as a Thanksgiving dinner dish with marshmallows on top, but there are so many other great flavors to pair with them. Here are some of my favorites so that you can start to make your own sweet potato recipes.
Cinnamon: this is great to pair with sautéed or roasted sweet potatoes, it is also a nice pairing in soups, stews, and chilis.
Chili Powder: one of my favorites. I love it on roasted sweet potatoes, including sweet potato fries, and in chilis.
Black Beans: there is something wonderfully natural and earthy about this pairing. I love them in tacos (see recipe below) and burritos together, but also in chilis and soups.
Feta: The saltiness and sharpness of the feta with the gentle sweetness of the sweet potato is a combination that is to die for.
Rosemary: Mixing this herb into sautéed or roasted sweet potatoes is bright and delicious.
Ginger: the spiciness of ginger and the sweetness of sweet potato make a natural pairing that is delicious sautéed, roasted, and in soups and stews.
Lime: the acidity and sourness will bring that sweet potato to life! It is especially delicious when also paired with chili powder for smokiness.
Sweet Potato Recipes
Here are some of my favorite Scramble sweet potato recipes that will help you to see all that sweet potatoes are capable of.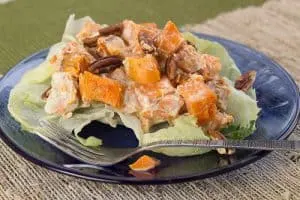 Warm Sweet Potato Salad with Pecans: Creamy, sweet, and smoky, this warm salad is perfect for fall!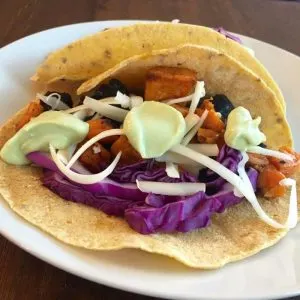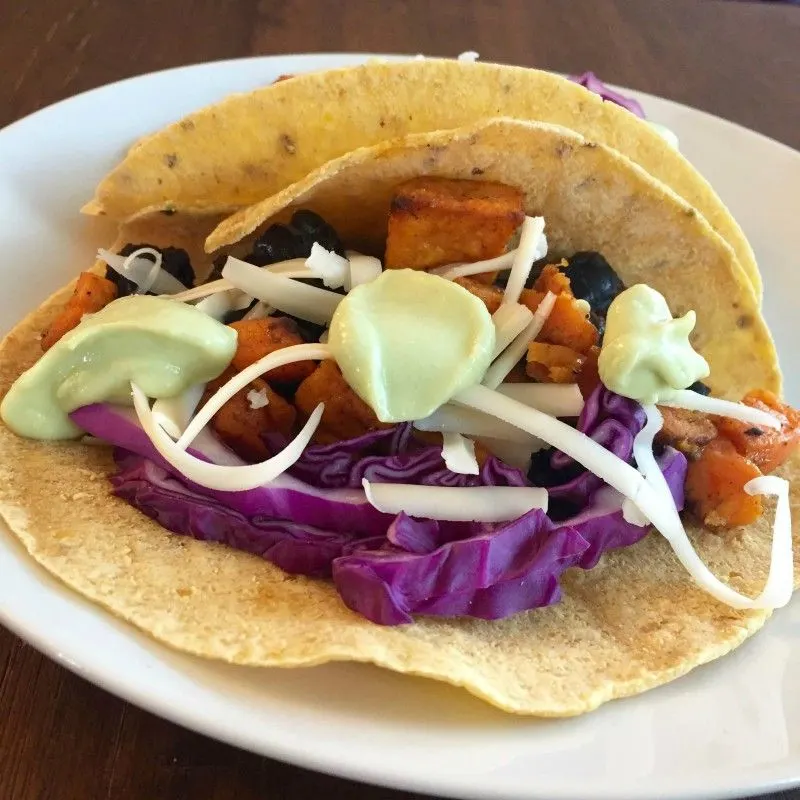 Black Bean and Sweet Potato Tacos with Avocado Crema: A favorite meal in my house. This is a 30-minute meal that everyone will think is fancy and fun!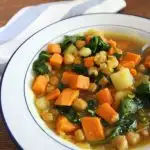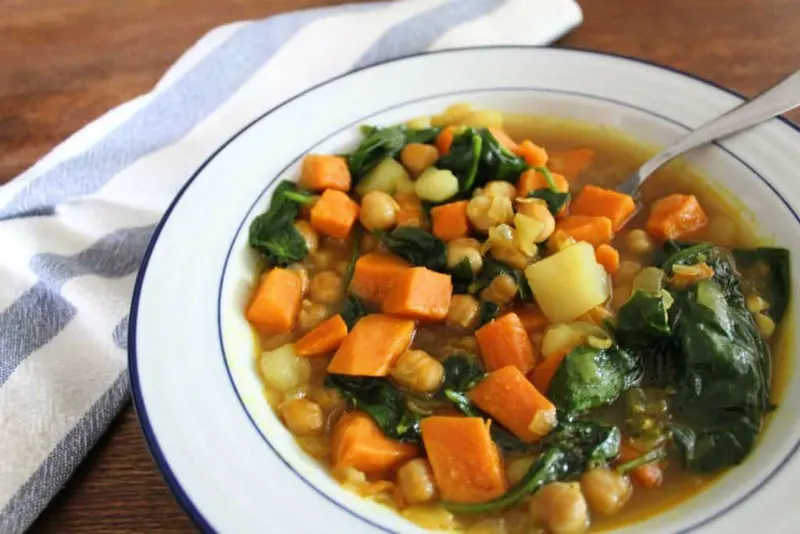 North African Super Foods Stew: Warm, nourishing, and so, so flavorful. This is a Scramble favorite.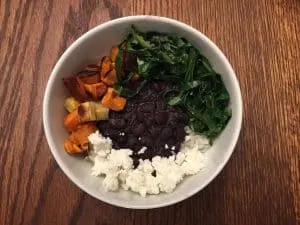 Brazilian-Style Power Bowls: With beans, greens, and sweet potatoes, this meal is so healthy but also packs a flavor punch.
Sweet Potato Pie: Can't forget dessert! This is a fun alternative to pumpkin pie, but with less added sugar thanks to the natural sweetness of the sweet potato.
Do you have favorite sweet potato recipes or pairings? I'd love to hear about them in the comments!
And if you'd like further inspiration that will help to get dinner on the table every night, sign up for a free trial of our online meal planning service to see how simple cooking can be!
Looking for more inspiration for some of your favorite staples? Check out our ideas to enliven steamed rice!